Marketing emails essentially see users unsubscribing and hence, we ensure that no further emails are initiated to these users. The way the unsubscribe link is inserted and we track unsubscribes depend on the SMTP Connector you are using.
Default SMTP Connector
There are two ways you can insert the unsubscribe link for Default SMTP Connector which you can configure in Email Settings
Add Unsubscribe Footer - Enter the text you wish to be added into the footer, enter the unsubscribe URL and enclose the text which will point to this link between "[" and "]". If you do not have any unsubscribe URL, you can point it to http://emailapi.moengage.com/v1/emailresubscribe

Embed in Email Body - Select this option and while creating the email, just edit the unsubscribe link in your email and select "Unsubscribe Link". You can also copy the HTML code and paste in the email HTML body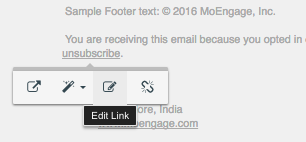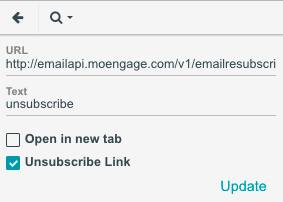 Mandrill / Sendgrid Unsubscribe Tracking
If you are using SendGrid or Mandrill for unsubscribe tracking, you can go to their respective documentation - SendGrid and Mandrill. We will receive unsubscribe information directly from SendGrid and Mandrill.
Amazon SES / Custom SMTP Connectors
For Amazon SES and other SMTP connectors, we have an unsubscribe tracking mechanism where we can get this information and restrict any further emails to unsubscribed users. Follow the below steps to implement unsubscribe tracking:
Download this Email Unsubscribe HTML template 
You can make your brand related and any other additions to this template - but make sure to retain and call the JavaScript function on Unsubscribe click.
After the modifications, you can then host this on your server, copy the url and paste it in "Unsubscribe url" seen after you select "MoEngage Tracking" under the respective connector configuration
Do not forget to save the configuration.
This unsubscribe link will be placed in the email footer as - "If you do not wish to receive future emails, unsubscribe here"
You can see the unsubscribes statistics for an email campaign on Campaign Info page.