We recommend testing your On-site Messaging (OSM) campaign during campaign creation to ensure it meets your expectations. There are a plethora of device/browser combinations available, and the actual display of the message on the website might differ from the dashboard preview. Use the Test Campaign feature to test the on-site messages on your devices.
Where to find the Test Campaign feature?
The Test Campaign feature is available in step 2 of campaign creation, as shown below.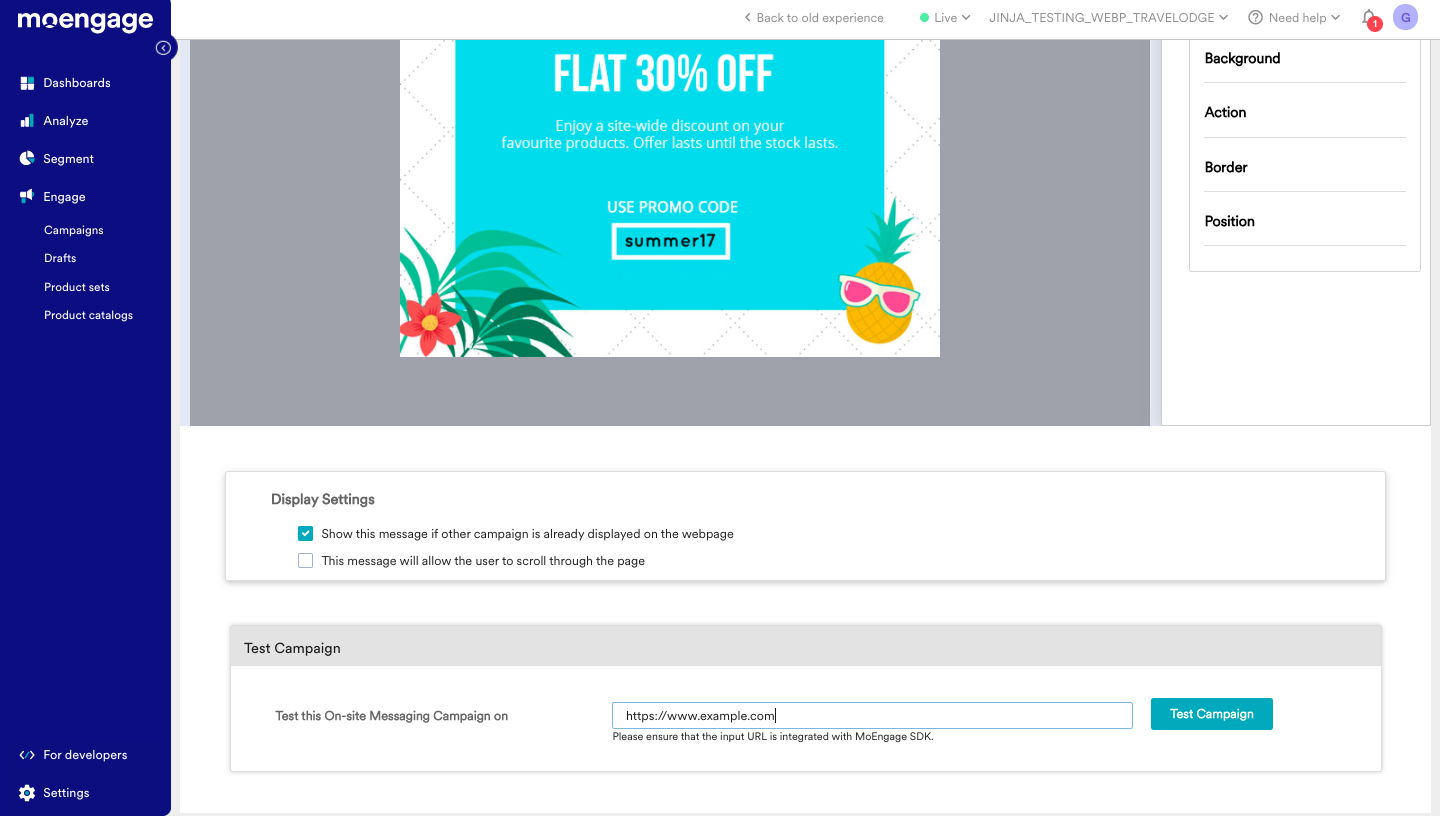 How does it work?
The Test Campaign feature allows you to experience the look and feel of your on-site messages on your website. To receive an on-site message on your device before activating the campaign for your live users, do the following:
Navigate to the test campaign section during campaign creation and paste the URL where you want to see the campaign.


Ensure that the MoEngage SDK is integrated into the target URL for the test campaign to be shown.
When you click on the test campaign, a new tab will open in the same browser, and your on-site message will be shown there. This test message will only be shown on the same browser on which you click the Test Campaign button of the MoEngage dashboard and will not be visible to your other website visitors.
Test Campaigns are active for 30 seconds, and during this time, you will keep seeing this campaign on the same browser even after refreshing the page. This will not happen for your live campaigns.
Test Campaign for mobile web
To be able to Test Campaigns for mobile web, you can use any one of the below options:
To simulate using Chrome's device mode, do the following:
Open your website on your chrome browser and open developer options as shown below.

Switch to mobile web view for your website as shown below.
Note: This approach will only show you an approximation, and the results may only be accurate in some cases. For more information, refer to Chrome Device Mode.
To test a dummy URL in a live campaign, create an OSM campaign as specified below:
In Step 1 of campaign creation, select a specific page with a dummy source parameter. It could be something that only you would know to access. In the example shown below, ?source=moe_onsite_test is added to the URL to ensure that the created campaign is limited to the dummy webpage to which none of the live users will have access.

For more information, refer to the Create OSM campaign.
Define the content of the OSM to be shown in Step 2.
Publish the campaign and access the dummy URL from your mobile browser to get a look and feel of your OSM message on your mobile website.
Edit the campaign as required to change the display as required.