MoEngage provides default integration with three SMS providers - Gupshup, Solutions Infini and Sinch.
If you want to send SMS using any other service provider, you can set the custom connector.
For more information about custom connector settings, refer to Set Custom SMS Connectors.
You can configure multiple senders for a particular SMS Connector and streamline your SMS communications for different brands or types by having separate threads. Moreover, you can then choose different senders for different SMS campaigns during SMS campaign creation.
To add a sender, go to SMS settings > SMS Connector Config. Select the Connector you want to use, it can be an integrated connector or a custom one. Click on the

button. It will create a new tab. Set a sender name, set the type as Transactional or Promotional, enter the credentials. Once you click on Save, the new sender gets created.
The below screenshot shows SMS GupShup having 2 Senders - 1 for sending promotional messages and other one for transactional messages - identifiable by(P) & (T) respectively.
If you are sending SMS to Indian mobile numbers
In the Sender ID field, please ensure that you add the Header ID approved under the DLT platform. More details on DLT are captured here.
If you will try to send SMS via an unregistered header, your SMS will be rejected and will not be delivered to the end-users.
To delete a sender, go to the Sender tab and click on "X" button as shown here:

You will not be able to delete a sender if it is also set as a default sender.
A default sender is the one which will be picked up by default for sending all SMS campaigns, unless you choose a different sender at the campaign level. You can set a sender as default by simply using the toggle button

The default sender can be identified by the green circle containing D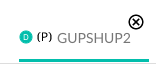 . There will be only 1 default sender across all the connectors and each connector will not have its own default sender.
Deleting a default sender
If you delete a sender and that sender also happens to be associated with a campaign, then the default sender will be used as a fallback and the campaign will now be sent via the default sender.
Configuring New Custom Connectors
Now you can also create multiple custom connectors. To create a new custom connector, click on Create button beside Custom Connector heading on the left pane. For information on how to set up a custom connector, pls refer the page Set SMS Custom Connector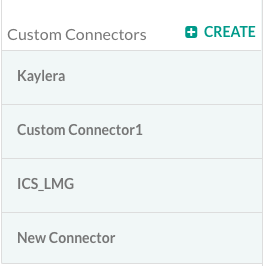 You can add multiple senders, delete senders and set any one of them as default under Custom Connectors as well.
In addition to this, you will get 2 options when you try to Add a Sender in Custom Connector:

1. Copy details from an existing sender: Choose this option if your new sender will have similar parameters as the existing one and only a few parameters will be changed. This will help minimize the additional work. This is applicable only within a connector, meaning that you will not be able to copy details from sender of 1 custom connector to another sender of a different custom connector.
2. Enter new details: If the new sender is going to very different from the existing sender, then you can choose this option and all the details afresh.
Choose Connector while SMS Campaign Creation
All the connectors/senders configured in the SMS settings will be available in the "Connector Type" dropdown present in the the Compose SMS (Step 2) of SMS Campaign creation.