You can now export User Attributes of any segment that you have.
This allows you to try out some of the following scenarios:
Export the Google Advertising IDs of all users who were engaged but uninstalled and run re-engagement campaigns on Facebook.
Export phone numbers of inactive users and send them an SMS in an attempt to reactivate them.
There are various other scenarios possible based on what data you track.
To run an export, follow the given steps:
Build and run a segment you would like to export the data for
Click on the export buttons in the Recent Queries section

Your Email ID is preselected. Give a file name to the report and select the user attributes you would like to extract.
Click export and relax, we will email you the report as soon as it is generated.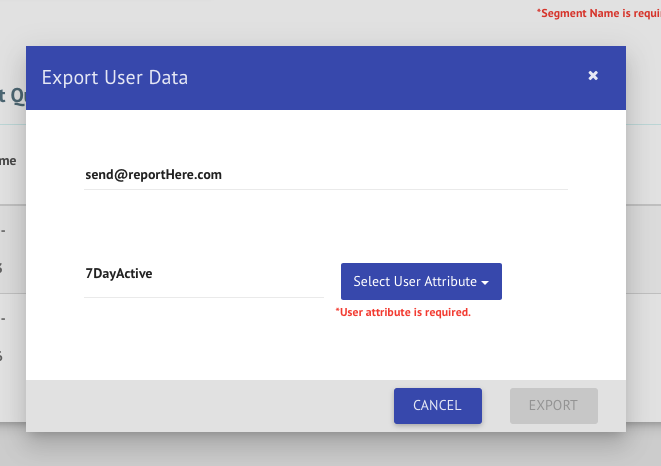 Export Security
User export is a private export service. The user export file can only be accessed by users who have access to the MoEngage dashboard only if they log into the right account. The export is NOT available for any user if she is not logged in to the MoEngage dashboard, or not logged in to the right account.
User export email (and link to download the file) is sent only to the user's email address, who is generating the export. Other dashboard users can access this file from the MoEngage dashboard on the Data Export page in the User Export tab.