Google Ads Audience Sync aims to help marketers improve ROI on their Google Ads spending by allowing them to send Ads to the right audiences. Marketers can retarget the users who have evinced interest in their brand or product but haven't acted (such as subscribing or making a purchase) on their interest.
Google Ads Audience
Audiences are a group or collection of users with similar interests or who have expressed similar intents. You can reach out to potential customers by creating an Audience. Google Ads allows different types of retargeting based on keywords, visited websites, demographics, customer matches, etc. Customer match is the most effective when it comes to targeting/retargeting.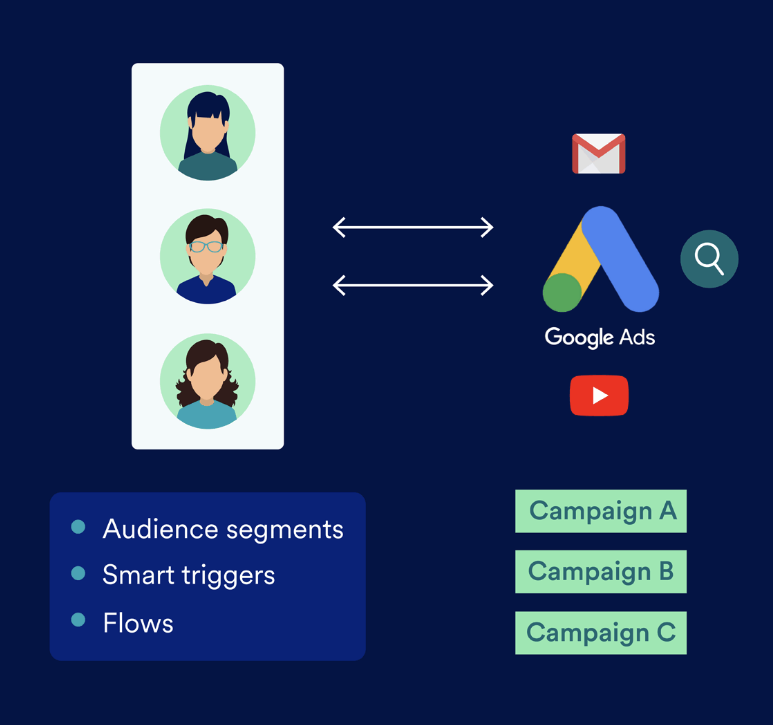 Customer Match
Customer match is the most effective as this feature allows brands to upload the list of users who have visited their app and displayed strong intent. Targeting such potential users via Google Ads Audience can help brands convert them into actual users of the app or product.
The customer Match feature requires the brand to upload three different kinds of user data:
Email ID (hashed in SHA256)

Mobile No (hashed in SHA256)

Device ID( Apple IDFA or Android AAID)
Note: Customer match can be used only when Google's Customer Match Policy is met.
What does Google Ads Audience Sync do?
Google Ads Audience sync helps you sync a cohort or segment of users from MoEngage to Google Ads customer match audience. You can perform one of the following actions:
Create a new customer match list and sync a segment
Add users to the existing customer match list
Delete users from the existing customer match list
This helps marketers target users in real-time and perform exclusions as soon as the desired event has been performed by the users targeted by the ads.
Next Steps: