Email campaigns convey valuable information about how the campaign performed in terms of open/clicks/conversions, did the recipients consider it as a spam, did it lead to unsubscribes etc. This information can help you to improve the emails you send and to which users you send these emails.
We aggregate the information and show the campaign info page of the email campaign, which you can see by clicking on any campaign on All Campaigns page from MoEngage Dashboard > Engage > Campaigns:
Campaign Performance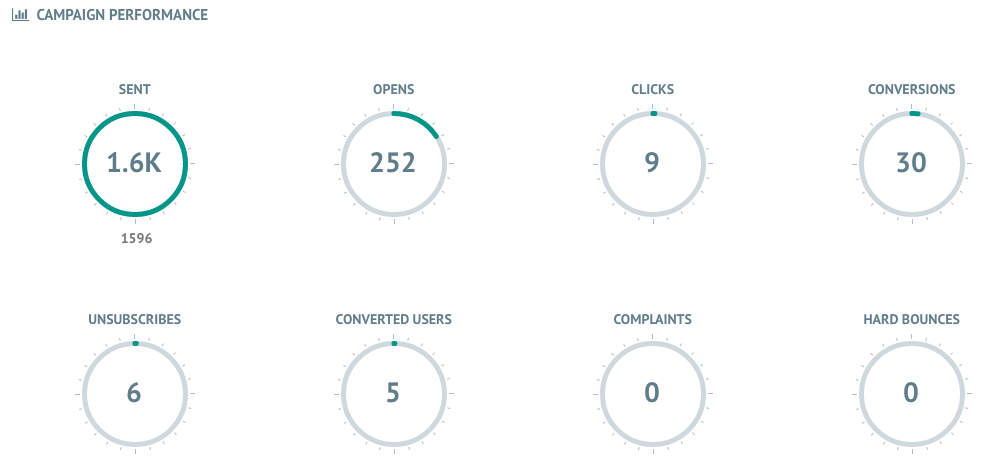 SENT: This is the total number of emails that have been sent. This number is arrived at after removing dupilcate/invalid emails, bounces/unsubscribed/complained users and removing emails due to email Frequency Capping and Personalization failures. Read more about Email Campaign Delivery breakdown.
OPENS: Total number of unique users who opened the email
CLICKS:

Total number of unique clicks on various links within the email

. Detailed insights into clicks data can be seen in "Clicks Analysis" tab as mentioned in this article.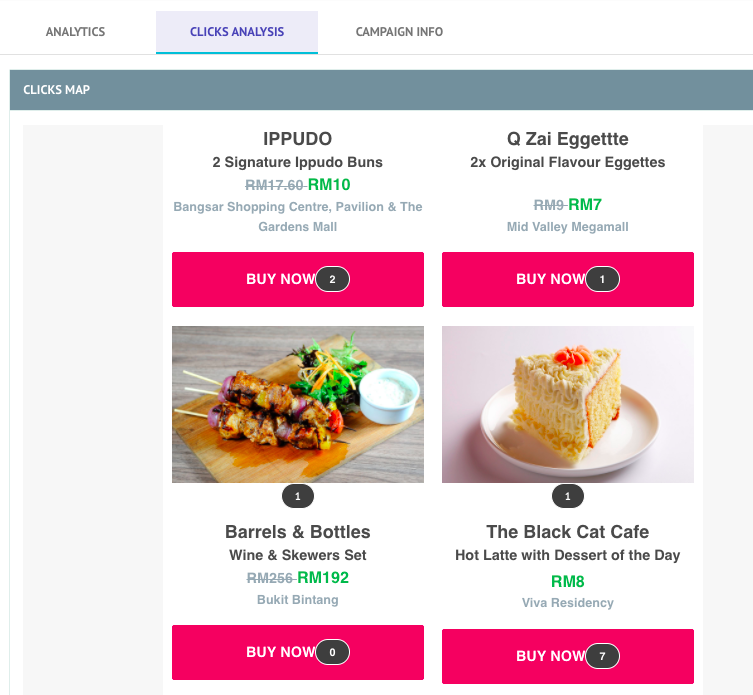 CONVERSIONS: Total number of conversion events that occurred as part of the campaign conversion goal
CONVERTED USERS: Total number of unique users who performed the conversion event
The following statistics are available for Default SMTP Connector and for Third Party connectors only if Unsubscribe Tracking is enabled in email settings and POST calls for Bounce & Complaints Tracking from SMTP connectors are sent to callback url mentioned in email settings. Refer Third Party Connector email settings for more info.
UNSUBSCRIBES: This is the no. of users who unsubscribed after receiving this email. No further emails will be initiated to this unsubscribed user.
COMPLAINTS: This is the no. of users who marked this email as spam complaint.
HARD BOUNCES: This is the no. of email addresses that hard bounced because they were incorrect and mail server rejected these emails.
This information will help you in improving campaigns to ensure better opens, clicks, conversions and lower unsubscribes and complaints.
Campaign Delivery Breakdown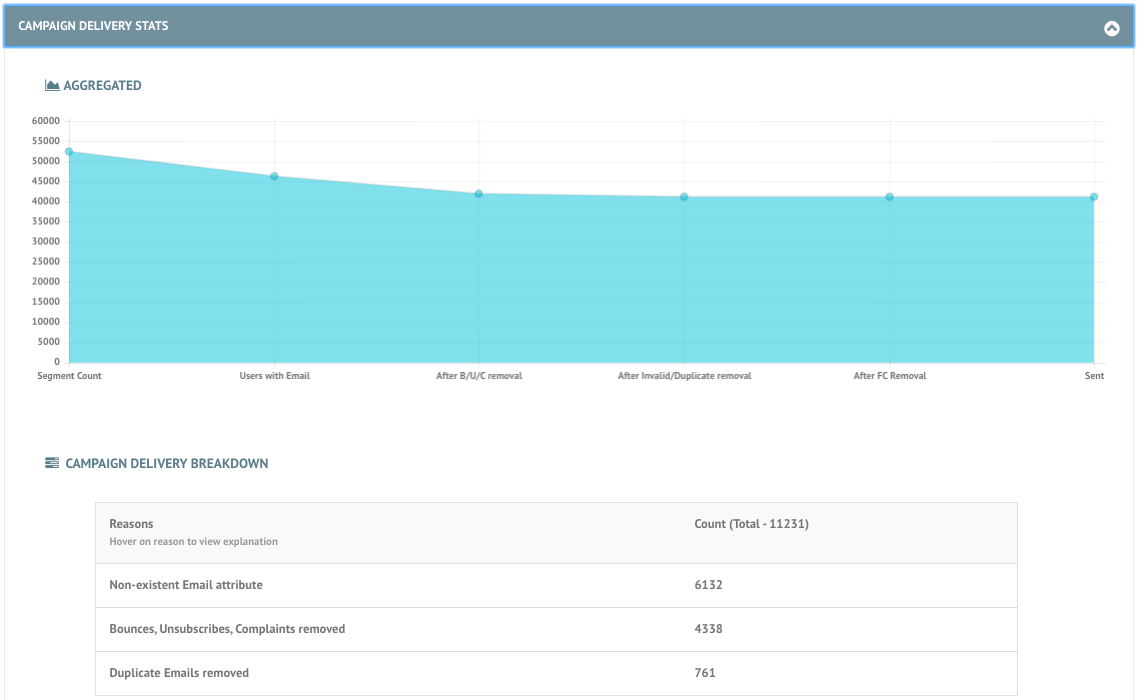 To get an understanding of how an email campaign is sent after removing invalid, duplicate, bounced, unsubscribed and complaint email addresses, you can refer to this FAQ.
iOS 15 Update -
Tracking Email Opens
Apple has introduced a setting in its Mail App where the users can choose 'Protect Mail Activity' which will hide your IP address and privately load all remote content. Once you turn this on, Apple will download all images in your email before you open the email and store them in a proxy server and load the images, at the time of email open, in your mail from Apple's proxy server and not the ESP's server. This is called image caching. This is done to not let the ESP know your IP address when you are opening the email. Apple acts as a middle man, downloading and loading images on your behalf thereby protecting your information from getting passed onto your ESP.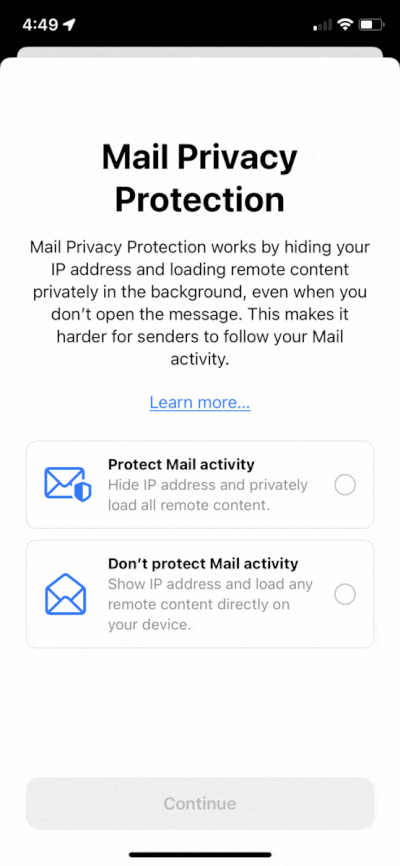 How does it affect you?
With this change, only the users using Apple Mail in iOS 15 and have explicitly opted in to protect their details with Apple MPP will be affected by this. Users using Gmail or other email apps on the iPhone will not be affected.

Direct Impact

Open rates as a metric may lose most meaning. We believe that most users may opt into hiding their IP with Apple. In that case, there is a higher probability of showing inflated open rates in the dashboard. But we are yet to see the adoption of this.

Indirect Impact

The open rate displayed the intelligent email marketing based on:
Send Time Optimisation

Re-engagement campaigns using Flows

Identifying A/B test winners

Email reporting

Lead nurturing
What MoEngage is doing about it?
MoEngage will filter out the opens triggered by Apple while caching the images before the user opens the email. The number of genuine opens is recorded when an actual user opens the email.




MoEngage is re-engineering the Send Time Optimisation algorithm to remove dependency on open rates and create combinations of opens, clicks, and conversions.




MoEngage is analyzing the impact of IP protection in MPP and improve the affected deliverability rates with open rates.
For more information about other iOS 15.0 updates, refer to Notification Actions and iOS 15 SDK update.