Pre-Computing segments allows you to minimise the delays resulting from the time taken to run complex segmentation queries, while sending the campaigns. It will ensure that your Push campaigns are sent at the designated time. 
Enabling Pre-Compute:
If you are using a complex segmentation query that usually takes a good amount of time to run then during campaign creation, on the Scheduling page (Step 3), select the check box "Compute target audience in advance to ensure that campaigns are sent faster and at the right time."

How it works: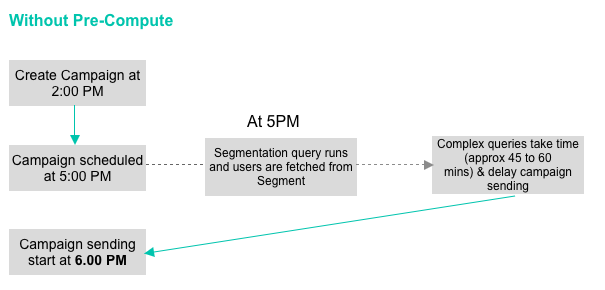 In order to make sure that all intended reachable users are targeted, we fetch users from the segmentation right at the time of sending the campaign so that any potential customers are not missed. 
But the downside is that if the segmentation query is complex, it can take upto 45-60 mins to run the query and fetch users. As a result, the campaign get stalled by the same amount of time as it cannot be sent until users are available.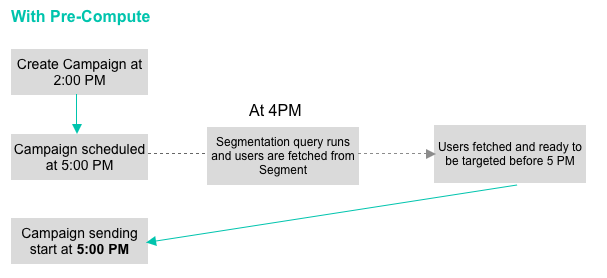 Pre-Compute solves this problem by starting the segmentation step 1 hour in advance so that users are already available and campaign can be sent right away at the scheduled time. The only caveat here is that there is a small risk of losing out on the customers who qualified for the segmentation conditions 1 hour before the campaign sending time and hence could not be targeted since segmentation started