Note - This feature has been deprecated in our latest release
The MoEngage Drag & Drop Email Builder allows you to quickly create email templates using pre-built components like Headers, Footers, content blocks etc. through a simple drag-and-drop action. Each component can be individually reordered, edited and customized saving you time and effort while also giving you maximum flexibility in designing your email templates.
Getting Started
Like the earlier WYSIWYG editor, the Drag & Drop Email Builder can be accessed while creating an email campaign under the Compose Email tab of the Campaign creation flow. On this tab, you will now see three new sections viz. BASIC, CONTEXTUAL, SAVED TEMPLATES
BASIC- This section contains the simplest template creation options like predefined layouts that can be customized, as well as options to either use the older WYSIWYG editor or even upload a template and edit it.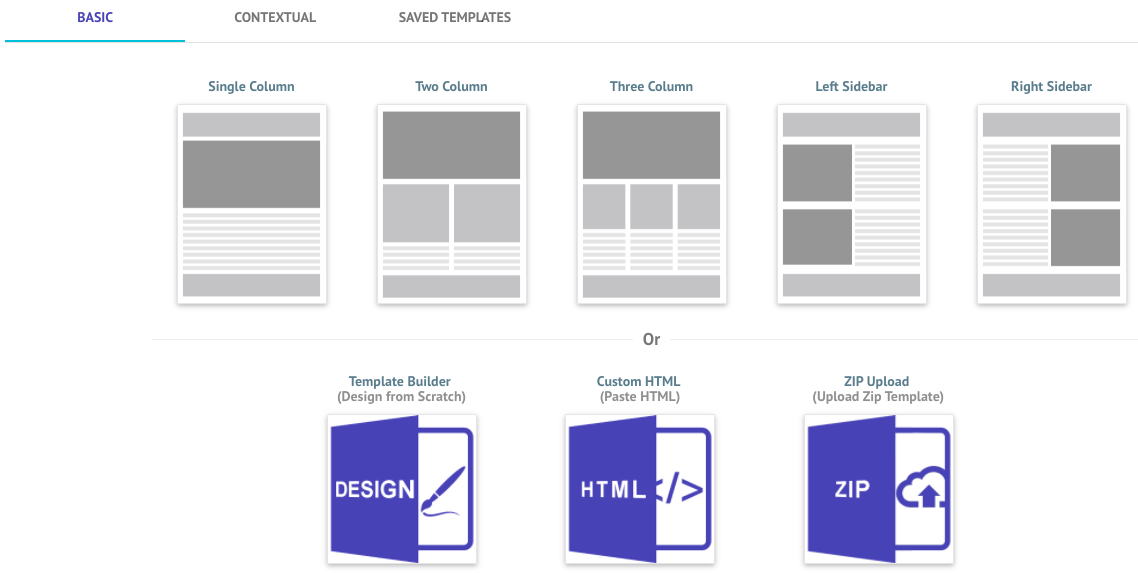 CONTEXTUAL – This section is a collection of some predesigned templates aiming at some popular use-cases like Welcoming a New User, Sending Abandoned Cart reminders etc. These templates can be used in theDrag & Drop Email Builder inc ase you have a ready use case for which you want to draft an email.

SAVED TEMPLATES- This section allows you to Save your own templates and reuse them as necessary. You can preview a template on both Desktop and Mobile, as well as choose to edit this template in the regular WYSIWYG editor even if it was created using theDrag & Drop Email Builder. However, we currently do not support the reverse operation, i.e. you cannot import a template created in the WYSIWYG editor and modify it in theDrag & Drop Email Builder.

Creating an Email Template
The Drag & Drop Email Builder is divided into two parts- on the left hand side, you will see the various components that can be used to create the campaign, on the right hand side you have the canvas where all these components can be arranged to suit the needs of the campaign.

These components can be dragged to the canvas and edited as necessary.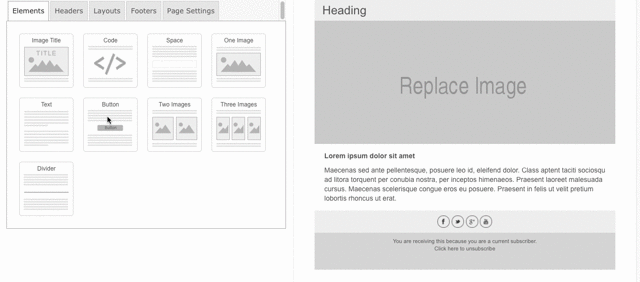 The following section describes the various elements supported and the customization options available for each.
Global Customization Options:
All elements have the standard WYSIWYG editor options, as well as HTML editing options provided for allowing them to be customized individually.
Standard WYSIWYG editor options Elements
HTML Editing Options (available in the WYSIWYG editor after clicking the Code View icon)
Also, each element has Edit, Duplicate and Delete options that can be used to save time while performing these tasks.Additionally, each element has its own styling options that allow for various style customizations on them individually. The below list gives details of each element and its unique styling options.
Elements

Image Title- This element contains a large background image placeholder, a small foreground image and placeholders for banner text. All these components can be edited in the left-hand editing pane.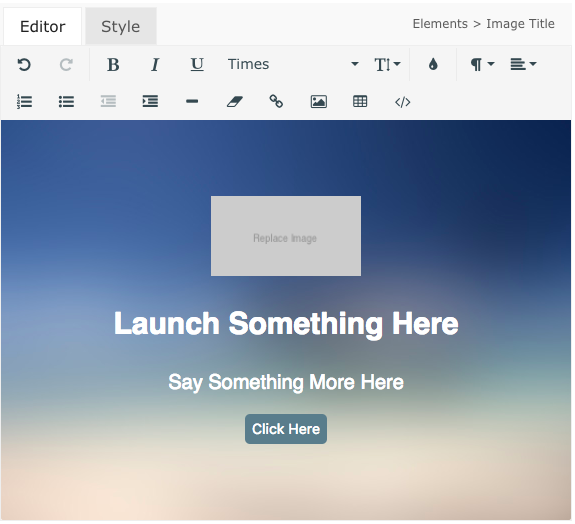 Styling Options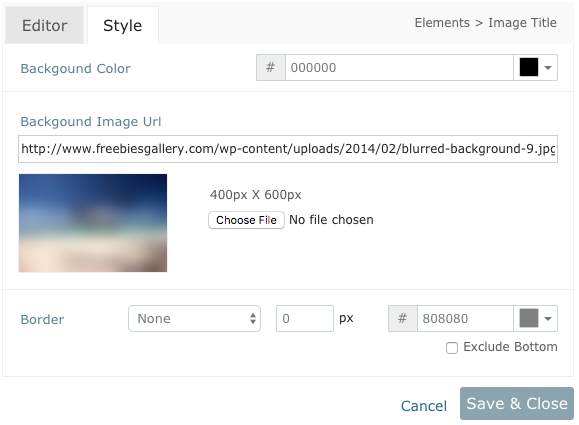 Code- This element provides you with a content block that you can use to insert code snippets or logical conditions, either in HTML, or Jinja into your templates.

Styling Options


Space – Inserts empty space in the page that can be used to create extra space between two elements.


One Image- Can be used to insert an image into the template. The image destination set using can be any one of the following options:
Uploading the image from your local drive
Providing an image URL
Using a personalized URL
Adding an image from the Image library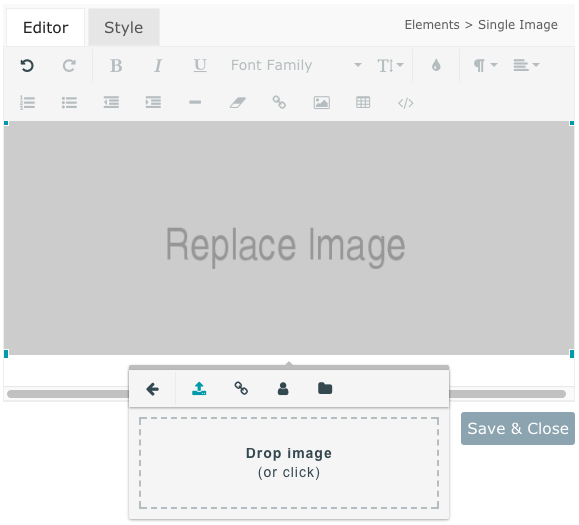 Text- Inserts a block of text in the template.


Button- Inserts a button element in the template that can be used for various CTAs like "Buy Now", "Book Now", "Click Here" etc.


Two Images- Allows for two images to be placed next to each other in the same row. Each image has all the editing options allowing it to be customized individually.


Three Images- Allows for three images to be placed next to each other in the same row. Each image has all the editing options allowing it to be customized individually.

Divider- Inserts a horizontal line in the template that can be used to create visual sections in the page

Headers
Headers are the layout components that usually occupy the top most position in an email template. The five header options provided in the MoEngage Drag & Drop Email Builder allow for easy customization of your template header to your desired appearance. Depending on your template design, you can select the headers as explained:

Image (Centre)- This option allows you to keep an image, e.g. your logo, in the centre of the header and customize it as necessary

Similarly, you can select and customize the header option that meets your template design requirements best.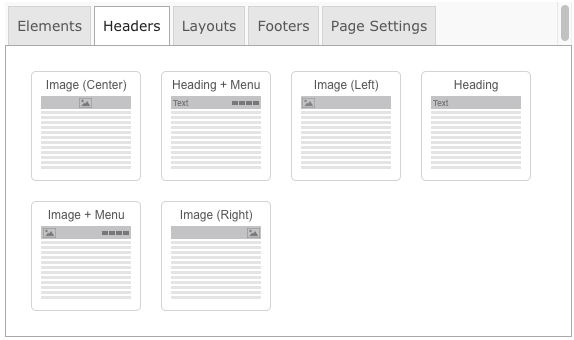 Layouts
Layouts are preconfigured blocks of content that contain a combination of text and image blocks. MoEngage Drag & Drop Email Builder has the following options for choosing the right layout for your template.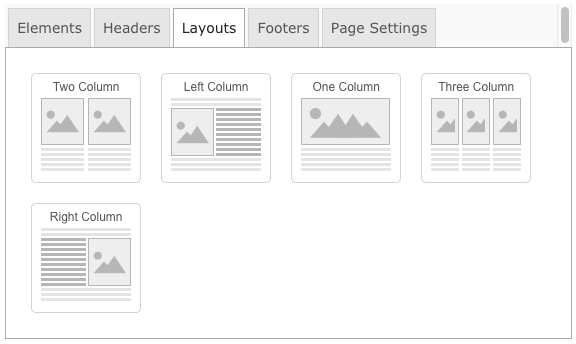 Layouts are useful when you want to have information displayed as a combination of image and text, e.g. product information.

Footers
Footers are placed at the bottom of your template and generally contain icons for your social media handles and some text.
The MoEngage Drag & Drop Email Builder allows for customizations of the footer on not just the appearance, but also on the individual social media icons.

Page Settings
Page Settings section allows you to define the page-level styling that you would like for your template, e.g. the backgroud color, background image etc.

Note: This feature is currently in closed beta and hence is available only for few clients. If you wish to have access to this feature, please contact your Customer Success Manager.