Navigate to MoEngage Dashboard: Settings -> Channel -> Push -> Web Push and configure the following settings:

Default Push Icon
All Web Push notifications contain an icon. The MoEngage icon is the default icon. You can change this by uploading your Brand's logo.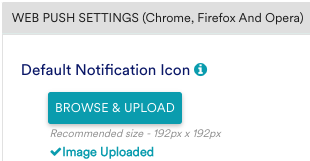 Domain Type (HTTPS)
Select HTTPS as the domain.

Subdomains
If you have multiple subdomains and you want to use the same Dashboard to track, then choose Track user cross-domain.

Badge Icon for Android Mobile Push
The badge icon is the app icon that is available at the top section on the left in the push notifications. This option is currently available only for Android Devices.

Two options are available for uploading the badge icon for android mobile push notifications in the MoEngage Dashboard.
Upload image
Choose the 'Upload Image' radio button and click on the 'Browse and Upload' button to upload the image from your device.
Enter Image URL
Choose the 'Enter Image URL' radio option and type or paste the image URL for the badge icon for your app.
Supported File Types for the Badge Icon
MoEngage supports the following file types to be uploaded for the Badge Icon image:
.png

.gif

.webp

.ico

.cur

.bmp
info

Note

Only Alpha Channel (black & white) images are supported.
RGB images are not supported.

The recommended resolution for the Badge Icon is 72x72 pixels or larger.
Preview for different OS
You can also preview how your message will look on different operating systems.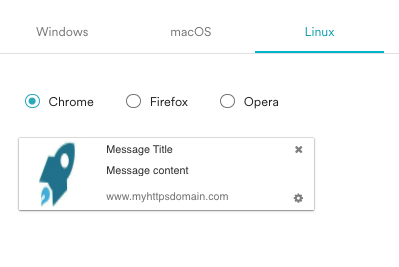 Configure Web Push Opt-In
Opt-In refers to how push permission is asked from the users on your webpage. MoEngage provides three types of push opt-in.
1-Click Opt-In
Two-Step Opt-In
Self Handled Opt-in
One-Click Opt-In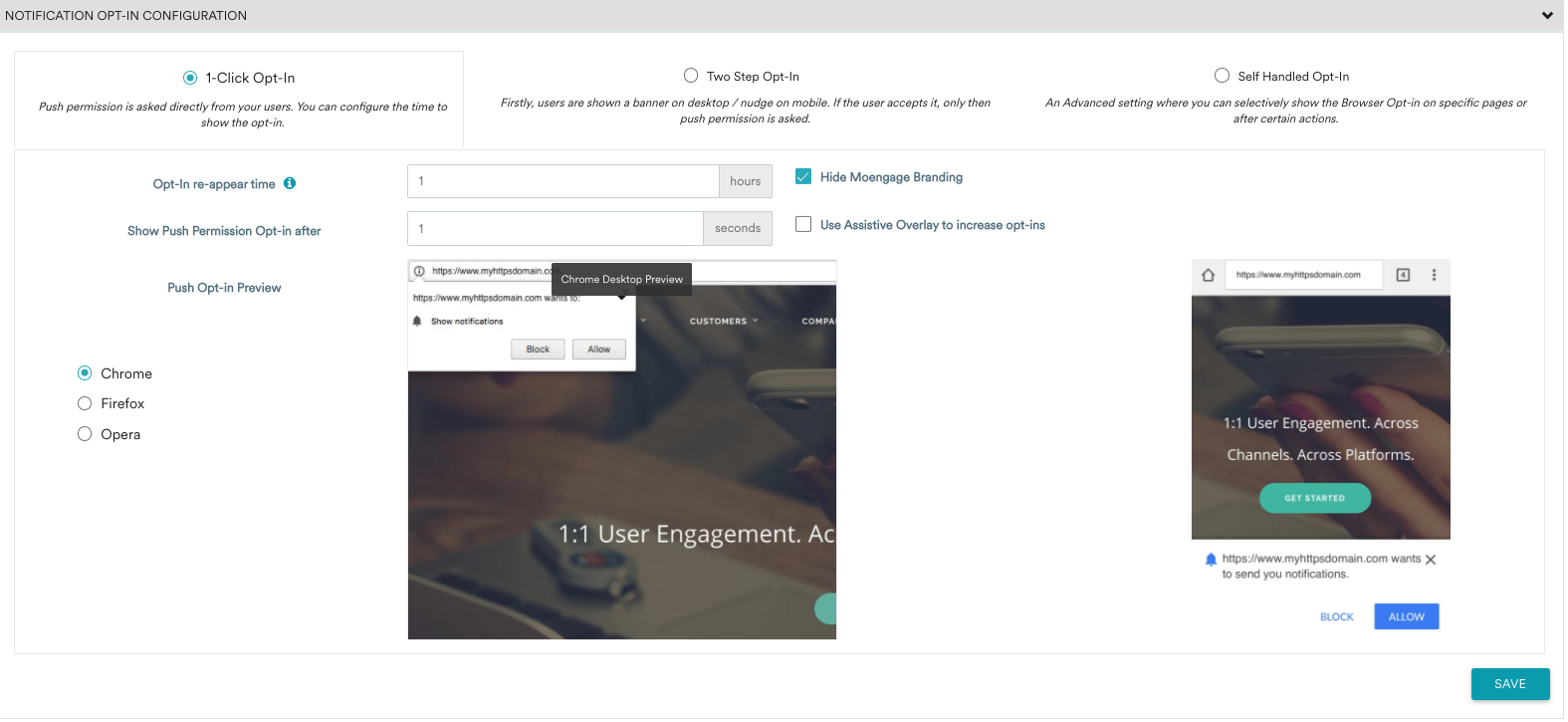 Two-Step Opt-In
Recommended option as it is a soft ask. Soft ask means the option is displayed multiple times even if the user does not allow it. It will maximize your reachable users.
On the web page, users are asked a "soft ask" that gauges user preference and proceeds to show the main browser permission upon permission.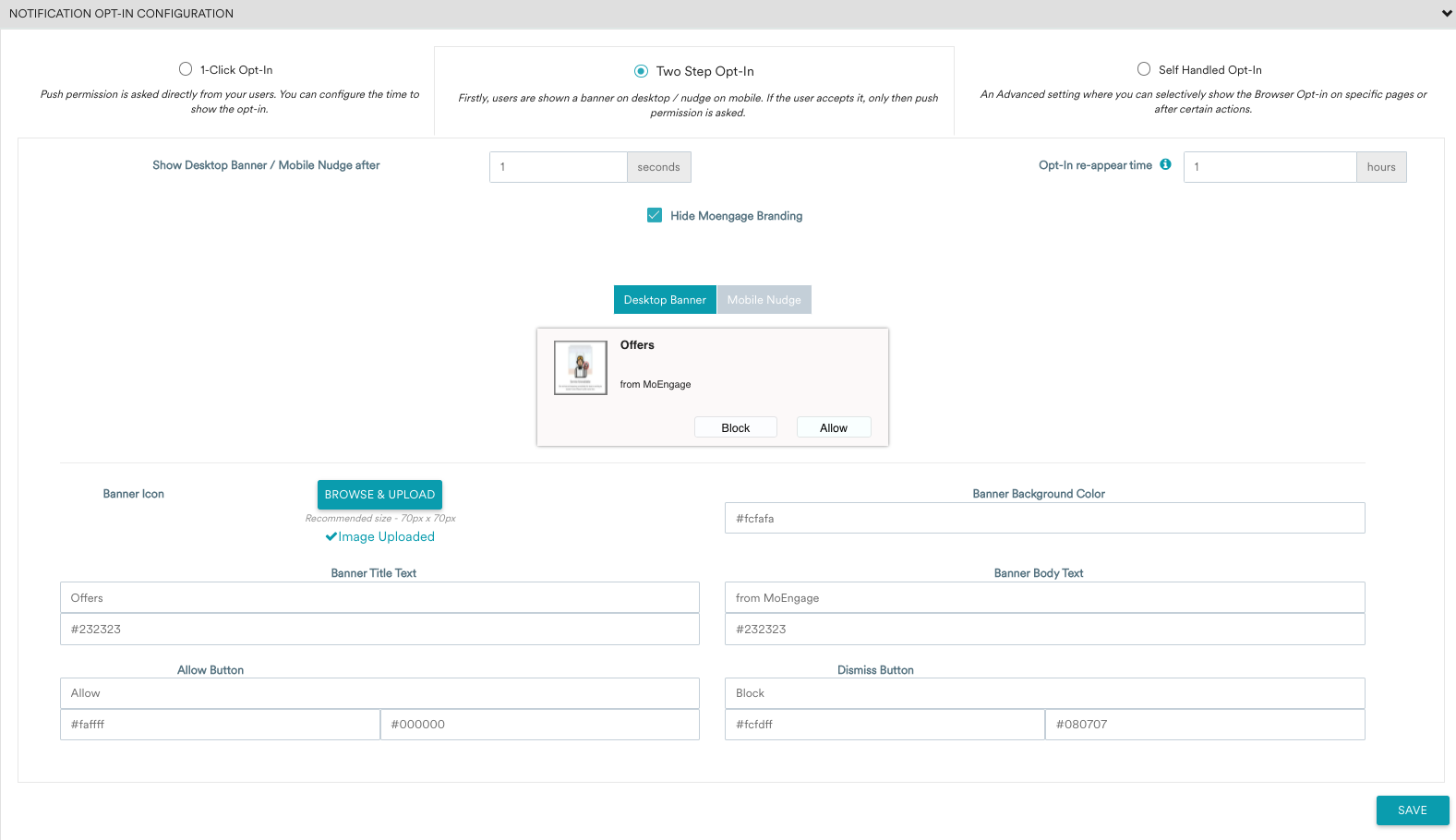 Self-Handled Opt-in
You can enable this option on the MoEngage only with web SDK integration.

Push Opt-in Re-appear Time
In case the users close the opt-in or banner/nudge, you can configure the time after which to show the opt-in again to the user. This is referred to as Opt-in re-appear time as described.

Hide branding
You can hide the MoEngage logo appearing on Soft Ask and Hard Ask Overlay by checking this box.