Personalization can add that differentiation to your marketing campaign and re-create that missing connection in message broadcasts for the customer. Personalized messages are read and received well.
This article describes personalization for Push Campaigns (One-time, Periodic, Event Triggered, Business Event Triggered, Device Triggered, and Location Triggered).
Push Personalization
One can personalize one or multiple attributes in the same message. To insert personalization in any field value, enter "@" and select the user attribute. We are support personalization in:
Message fields- message title, body, summary,
Rich content - Images & Coupon Codes
Click Actions - Deep-link URI & value items for Key-Value pairs for both platforms - Android and iOS.
info

Note

Before running this, please check the way you are saving names/other attribute values with MoEngage. Validate your saved data before using personalization. Also, note that personalized push notifications are not sent to iOS Inbox as of now.
Examples
Name Personalization
To address users by their first name, remind them of their last activity (viewed product, purchased product)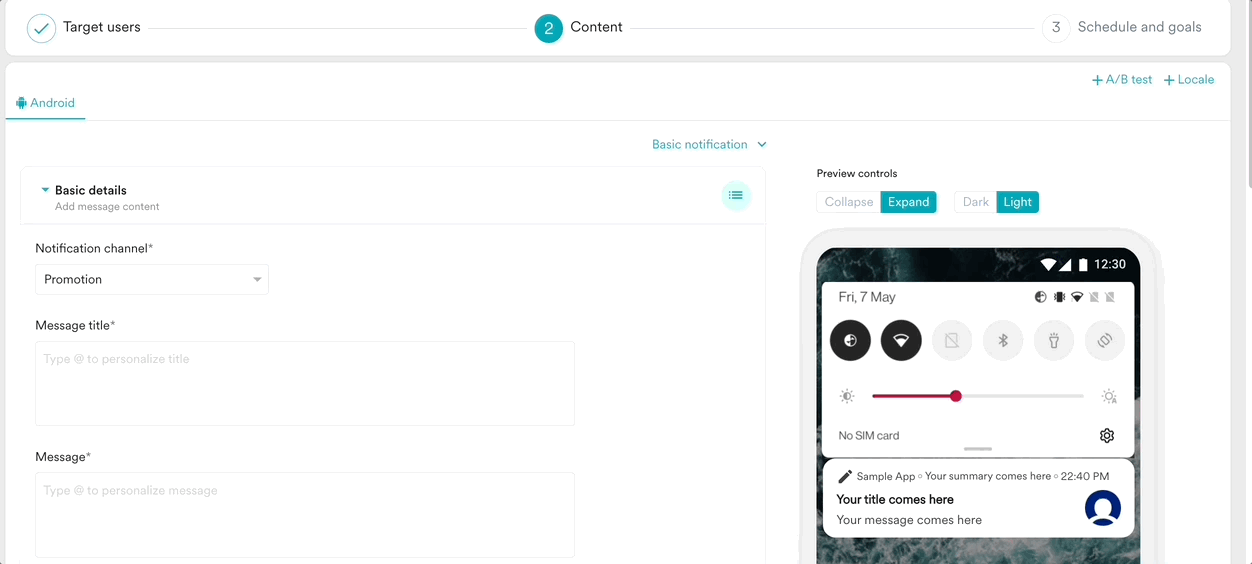 Image Personalization
To send a personalized Image to the user for products viewed but not bought by the customer.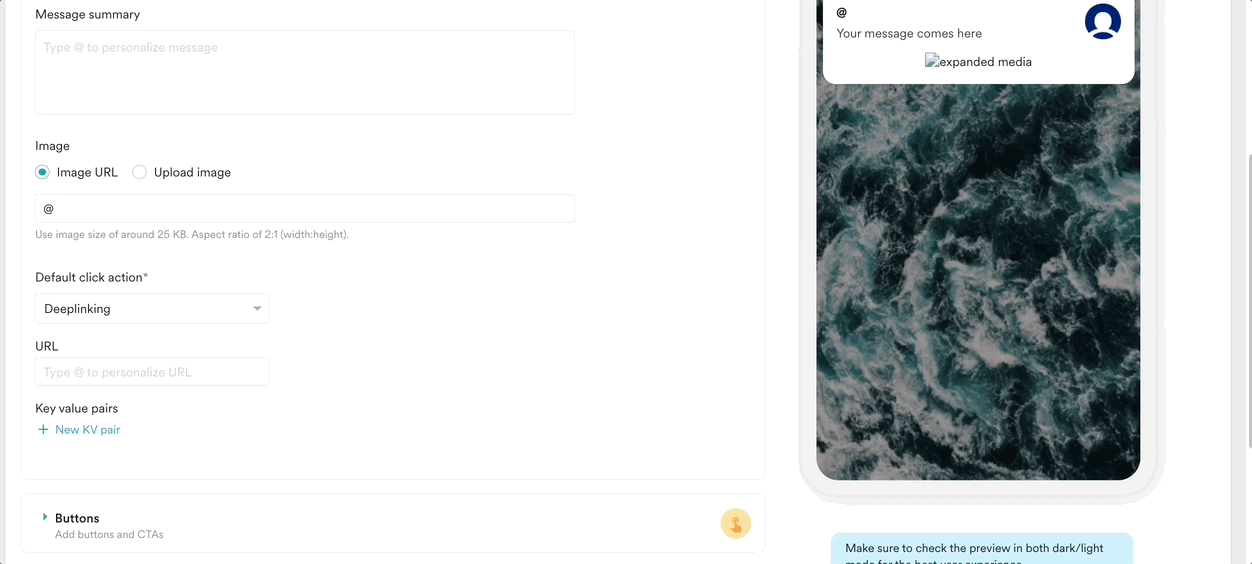 Coupon Code Personalization
To send a unique coupon code to every user. You need to save the User Level Coupon as a custom attribute and use it here. In the example, we have saved User-specific unique coupon code in an attribute named: Promo Code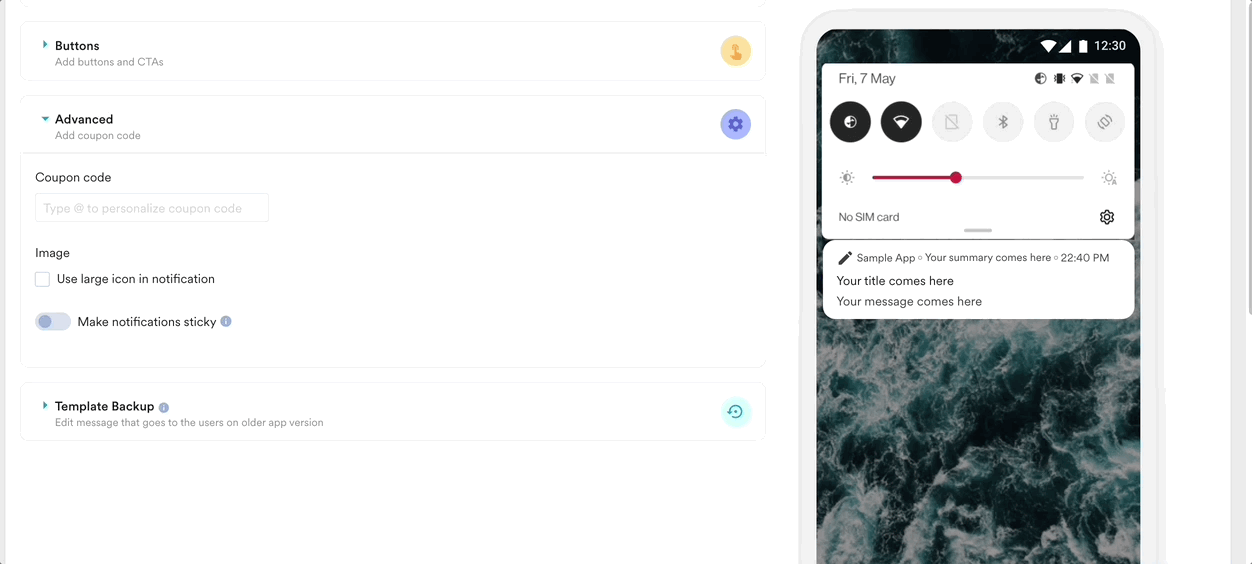 Key-Value Pair Personalization
When you want to pass Unique User Attribute to the app and make a decision on basis of that. It can be used to pre-fill feedback forms or user surveys etc.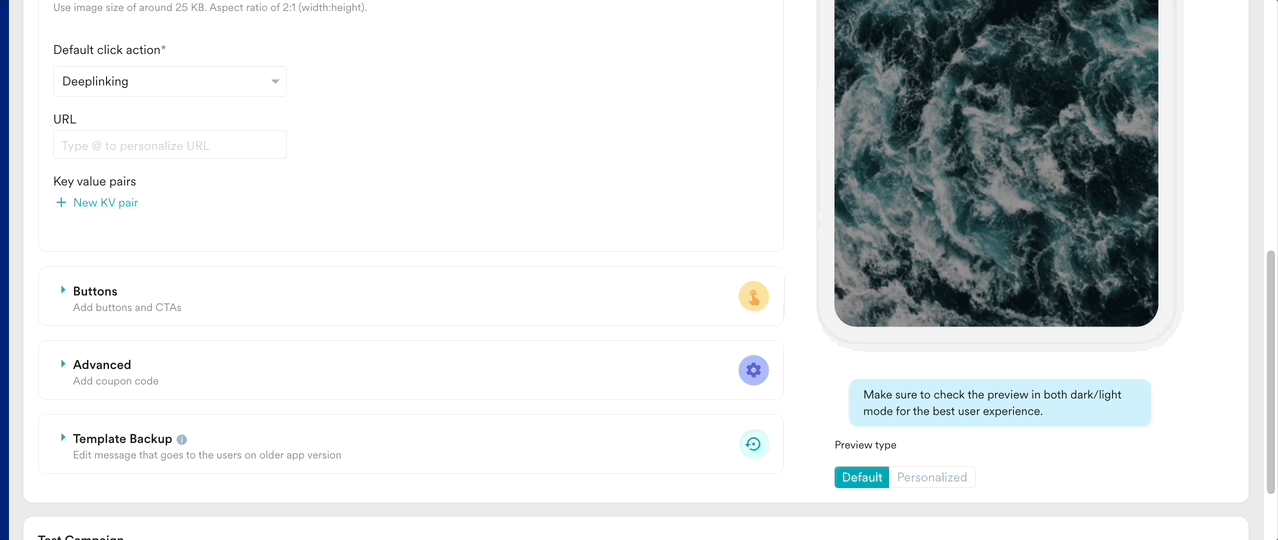 warning

Warning

The examples have referred to sample attribute names. These names are not standard and depend on how you have saved them with MoEngage.
Personalization using Content APIs
Type '@' in the Message section and add the call to the Content API. The Push Personalization screen opens up when you type @. Choose the relevant Content API as shown below.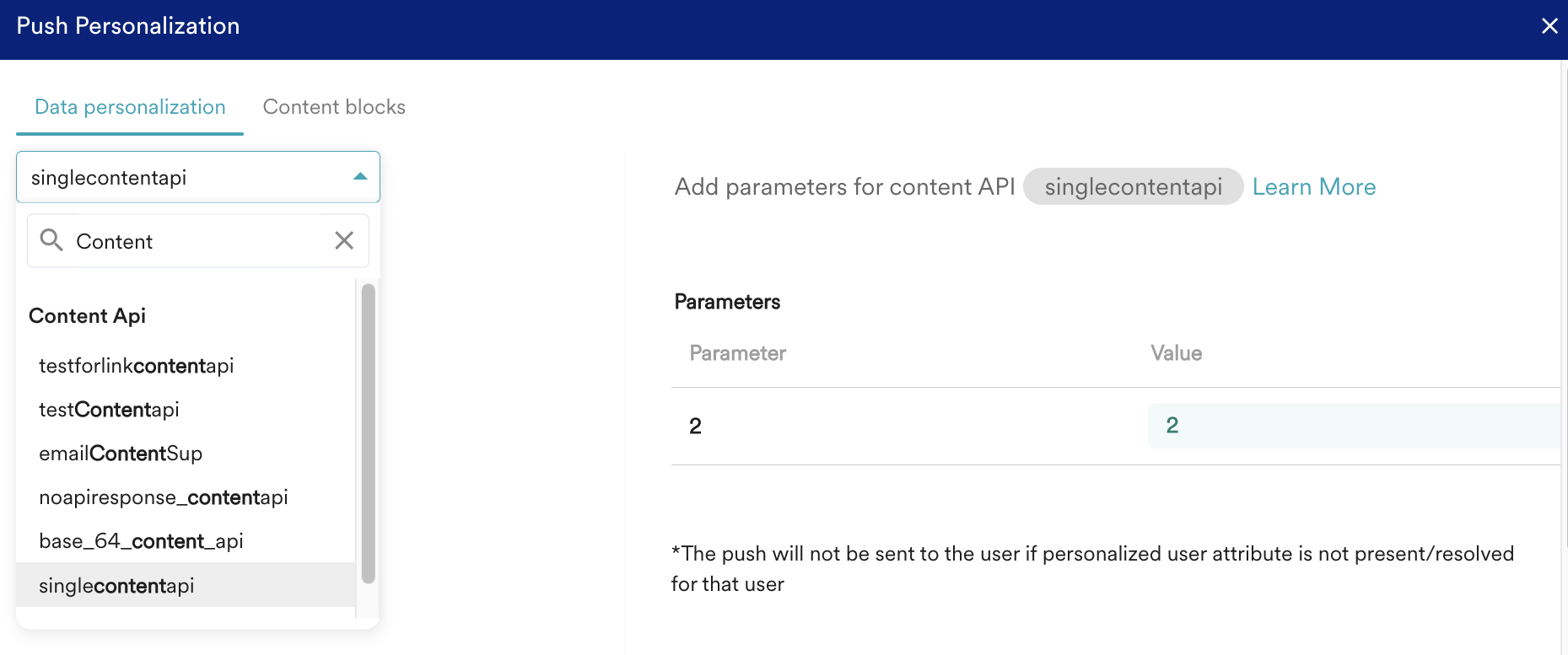 Consider the following example: The brand wishes to target users who have items in their cart but haven't made a purchase yet. Content APIs can be used to send personalized notifications to such users and nudge them to purchase as shown below.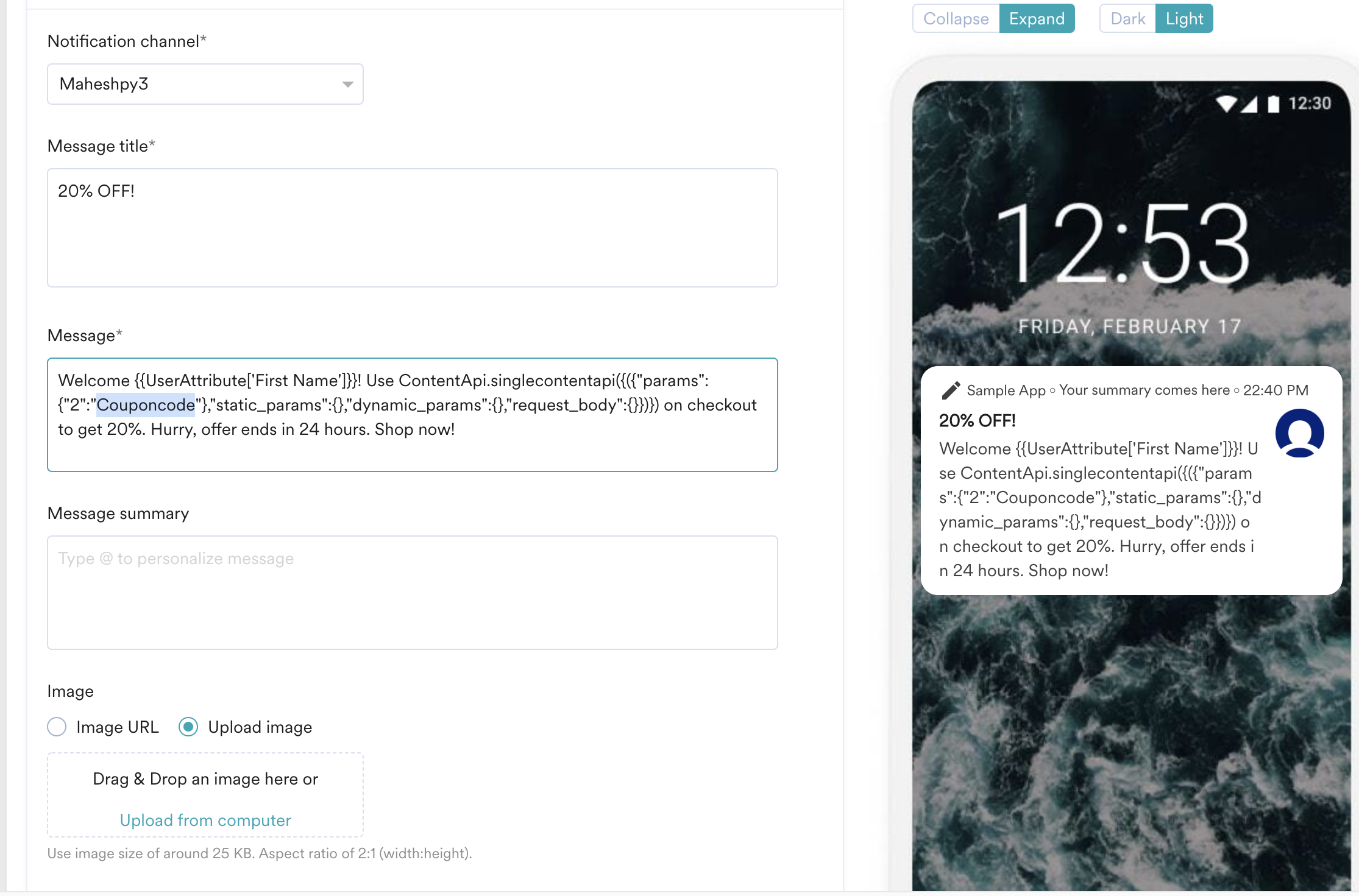 The following screenshot illustrates how the notification might look on the user's mobile device.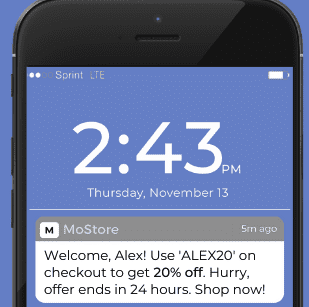 For more information on Content APIs, click here.
Personalization Using Content Blocks
Content Blocks are reusable content that can be used across various campaigns. These are particularly useful for headers, footers, signature blocks, terms and conditions, and so on.
Adding a Content Block
To add a content block, type @ in the message section and navigate to the content blocks tab in the personalization screen that pops up.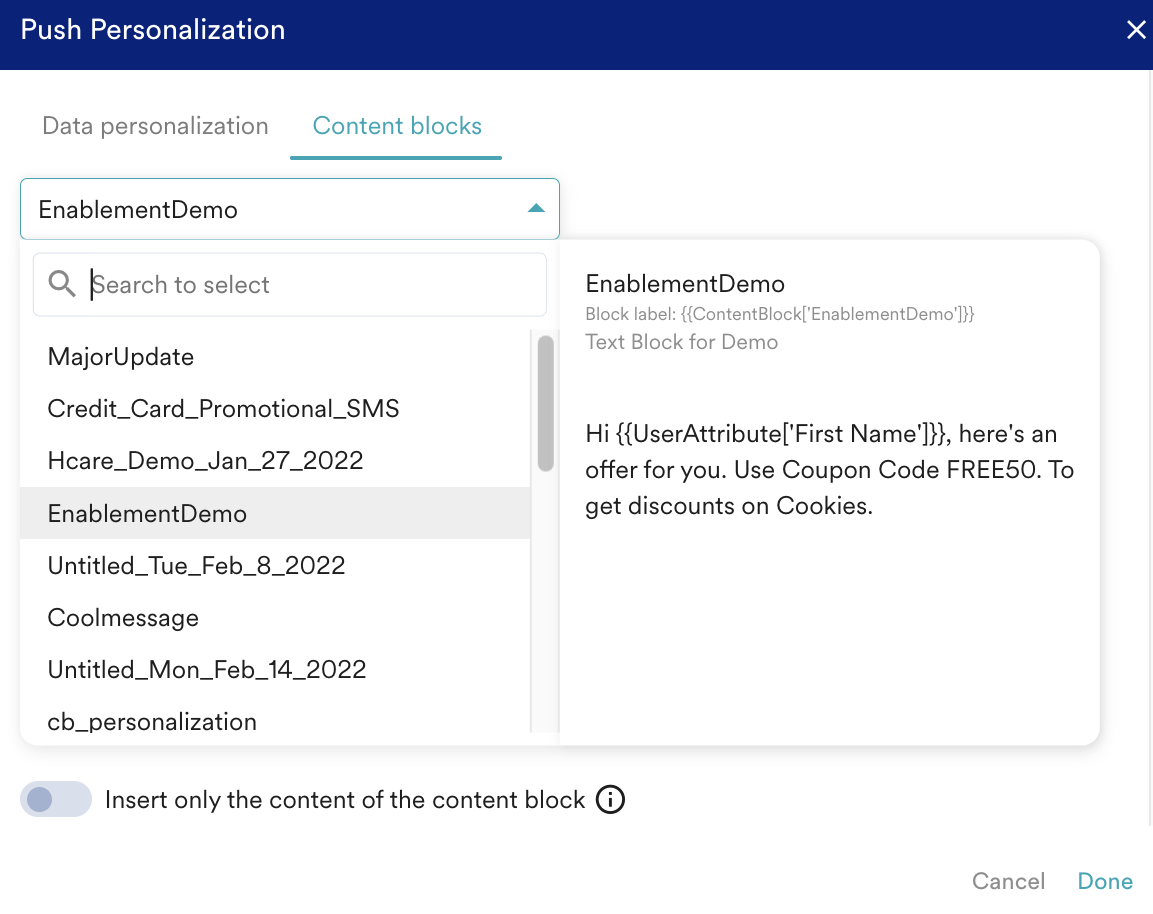 Click on 'Done' to insert the chosen content block. View the added content block in the preview controls section.
Preview of a message that contains a Content Block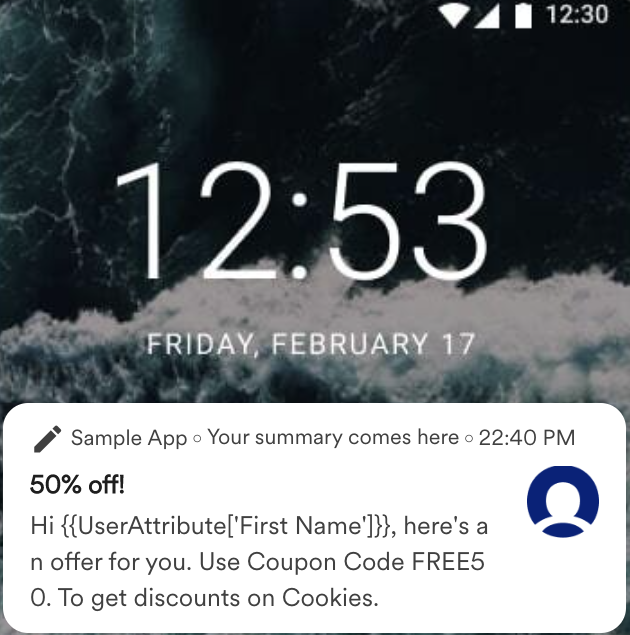 You can also add only the content from the content blocks using the 'Insert only the content of the content block' Toggle as shown below.

This will insert only the content, and any updates to the content block that happen later won't get reflected in this campaign. For more information on Content Blocks, click here.
Fallback Messaging
There may be cases where personalization may fail due to untimely resolution of user attributes or other reasons. You can create an alternate (Fallback) to the personalization when there are failures.
No Fallback
Choose the option for personalized content. The option results in no alternates when the personalization does not work.
Do not send Push
Choose the option where if the personalization does not work, In-App messages are not sent.
Replace Text
Type or paste the text used when the personalization does not work.
When a push message Personalization fails and No Fallback message is set then the notification will not be sent to the user. MoEngage in turn generates an error called, Personalization Failed.
| | | |
| --- | --- | --- |
| Personalization Successful | Fallback Message Set | Message |
| No | No | No message will be sent. Error: Personalization Failed |
| Yes | Yes | A personalized message will be sent |
| No | Yes | The fallback message will be sent |

Triggered Push Campaigns
In Event Triggered and Device Triggered Push Notification, for personalization, you can additionally use the event attribute for the event the "IF" trigger is set upon. Other things remain similar to things mentioned under Push Personalization above.
Using Business Event Attributes
In business event-triggered push campaigns, you can use the attribute of the business event that is mapped to the campaign to personalize the campaign. To do so:
Type '@' in the content creation step to invoke the personalization editor.
The attributes of the Business Event mapped to the campaign are shown under the Business Event Attribute head, as shown below.
Choose the attribute to be used for personalization and customize the message.
Personalization with business events can be a huge differentiator in terms of effort and automation, as you can use one template and send multiple campaigns with it. For example, if you have to communicate information about three new web series that are being launched - you can do so with the same campaign. You can use the event attributes to personalize the message for each series by using the series name, image, cast, and air date to send the communication to your dynamic segment (that matches the user interest (say, preferred genre) to that of the genre of the series).
Personalization can create a valuable differentiation for your marketing campaigns and promotional content. For any issues or any support requirements, reach out to our team at support@moengage.com.