Personalization can add that differentiation to your marketing campaign and re-create that missing connection in message broadcasts for the customer. Personalized messages are read and received well.
This article describes personalization for Push Campaigns (General Push/ Geo Fence, Smart Trigger and Real Time Triggers) . For personalizing your Email Campaigns, refer this article.
Push Personalization
One can personalize one or multiple attributes in the same message.To insert personalization in any field value, enter "@" and select the user attribute. We are supporting personalization in:
Message fields- message title, body, summary,
Rich content - Images & Coupon Codes
Click Actions - Deep-link URI & value items for Key-Value pairs for all three platforms - Android, iOS and Windows.
Note: Before running this, please check the way you are saving names/other attribute values with MoEngage. Validate your saved data before using personalization. Also note that personalized general push notifications are not sent to iOS Inbox as of now.
Here are a few examples:
e.g. To address user by first name, remind them of their last activity (viewed product, purchased product)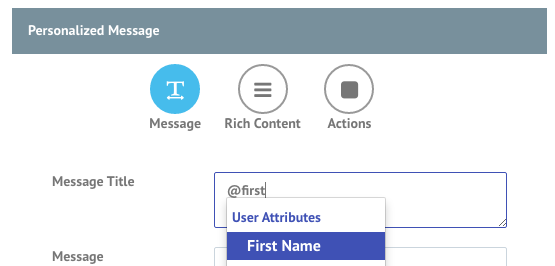 e.g. To send a personalized Image to user for product viewed but not bought by customer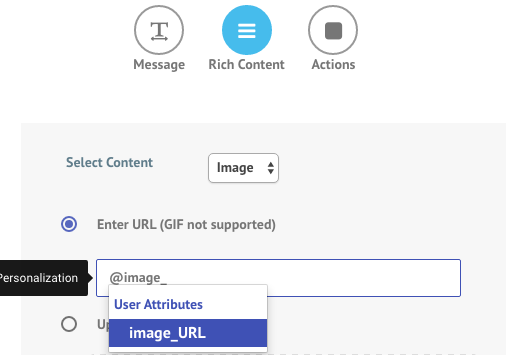 e.g. To send unique coupon code to every user
For this you need to save User Level Coupon as custom attribute and use it here. In example below, we have saved User specific unique coupon code in attribute named: UserCouponCode

e.g. Key-Data pairs - When you want to pass Unique User Attribute to the app and take decision on basis of that. Can be used to pre-fill feedback forms or user surveys etc.

Note: The examples have referred to sample attributes names. These names are not standard and depends on how you have saved them with MoEngage.
Fallback Messaging
There may be cases where personalization may fail due to untimely resolution of user attributes or other reasons. In that case, there are two options - cancelling the push message or initiating a fallback message and target action screen instead of the personalized message. Hence fallback message is not mandatory but recommended.
The Fallback message can be used only when Primary Message is personalized and can be initiated by turning on the switch button for "Enable Fallback message" and creating the message and action screen upon notification click.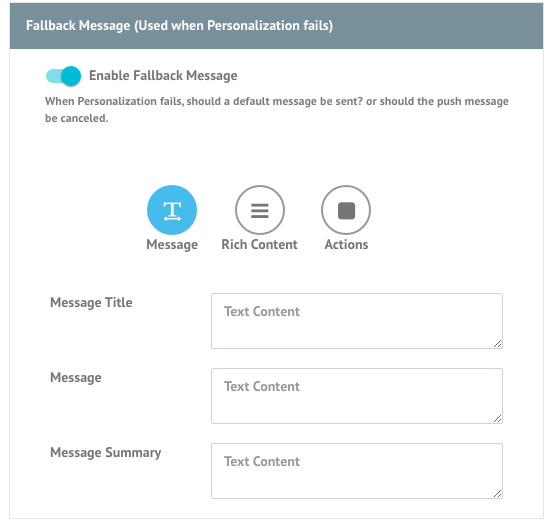 When a push message Personalization fails and No Fallback message was set then the notification will not be sent to the user. System in turn generates an error called, Personalization Failed.
| | | |
| --- | --- | --- |
| Personalization Successful | Fallback Message Set | Message |
| No | No | No message will be sent. Error: Personalization Failed |
| Yes | Yes | Personalized message will be sent |
| No | Yes | Fallback message will be sent |

Once done with sending the campaign, marketers can also compare the performance of Personalized message to that of non-personalized ones under Personalization Performance
Smart Trigger Push Campaigns
In Smart Trigger and Real Time Trigger based Push Notification, for personalization, you can additionally use event attribute for the event the "IF" trigger is set upon. Other things remain similar to things mentioned under Push Personalization above.
Personalization can create a valuable differentiation for your marketing campaigns and promotional content. For any issues or any support requirement, you can always reach out to our team at support@moengage.com.