Overview
Today's customers expect a meaningful and personalized experience across all touchpoints of a brand such as the mobile web/website, application, and even offline stores. This calls for seamless integration of online and offline touchpoints to provide an impactful customer experience. MoEngage Flows is a powerful cross-platform omnichannel marketing tool that helps marketers provide a comprehensive customer experience across multiple channels and drive customer engagement.
What is a Flow?
A Flow is a tool that helps you create multi-channel user journeys and helps you do the following:
track all users' actions across multiple platforms

analyze them

take decisions based on them.
Our in-house AI tool SHERPA can be used with Flows to experiment, analyze and build the best possible user journey to boost the conversions and revenue of your marketing campaigns.
With Flows, you can have an omnichannel marketing strategy instead of using multiple channels disjointly.
Use Case
Let's take the case of an e-commerce website where users have added products to their cart but haven't purchased yet. A marketer could wish to engage with customers who have viewed their cart at least once and nudge them to purchase the products in their carts.
Marketer's Plan of action
Step 1: Wait for 24 hours and then send a push notification (EngageCartAbandonedUsers) to the users in this target segment.
Step 2: In case the users have received the Push notification, check for the users who have viewed the notification and clicked on it.
Step 3: For the user segment that has clicked on the notification, evaluate whether they have made a purchase. If they haven't, send them an SMS with a 20% discount coupon code. For the user segment that has ignored the notification, send another push notification (RetryPush20%Off) and offer a 20% discount.
Step 4: Wait for 36 hours and send an email to the customers who have received the SMS but haven't made a purchase.
Step 5: Wait for 10 days and end the campaigns.
Who will enter this Flow?
Marketers can choose the segment of users who will enter the Flow or the Audience of the Flow and when they can enter and exit the Flow while creating it. The Audience selection happens in the third step of Flow Creation as shown below.
Audience Definition

Marketers can add the following users to the Flow:
All Users
This option will add all the users to the Flow.
Create a Filtered Target User Segment
The 'Filter users by' option in the Audience Selection section helps marketers create target user segments by filtering them based on user property, user behavior, and user affinity. Marketers can also create custom user segments for their targeted user base.
When will users enter this Flow?
The users who will enter this Flow are defined in the 'User Enters Flow' section during Flow Creation from the MoEngage Dashboard as shown below.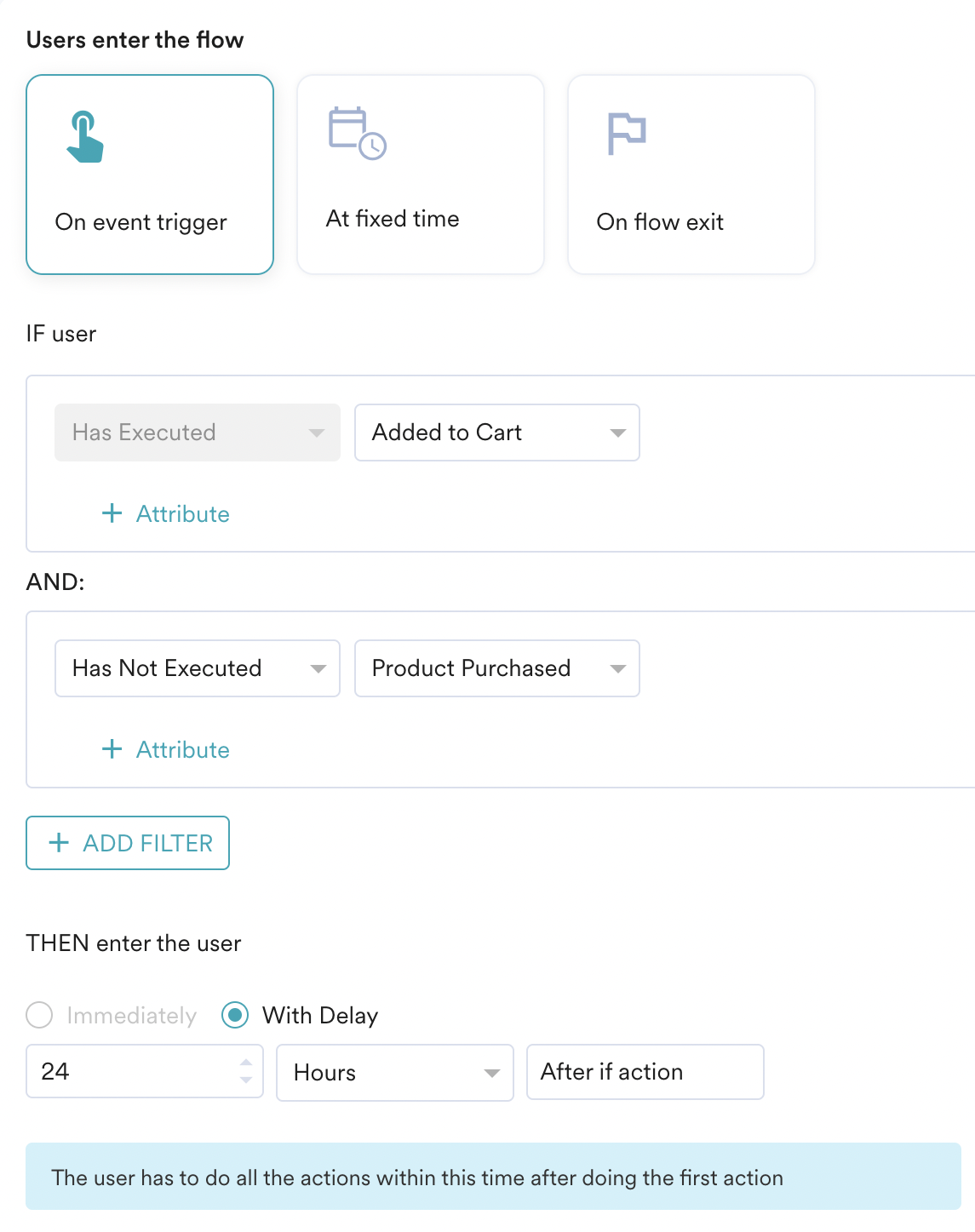 Types of Flows
Trigger Based Flow
This type of Flow listens to users' actions across different platforms and allows them to enter the flow provided they match the Audience Definition. Some of the common use cases are:
Onboarding users once they install the app

Handling Abandonment of Cart situations
Periodic Flows
This type of Flow allows users matching the Audience Definition to enter at a defined time periodically/ one-time. Some common use cases are:
Announce Sales/ Offers
Previous Exit Flows
This type of Flow allows users to enter on exiting a previously published flow provided they match the Audience Definition. Some Common use cases are:
Retarget users exited from a certain type of flow.
Why are Flows important?
Flows help marketers explore multiple possibilities and help you improve customer engagement and experience by crafting campaigns that take into consideration the user's actions. Check out our case study on how one of our clients implemented Flows to engage and convert new users. Flows helped the client improve their conversion rate by up to 40%.
Advantages of Using Flows
Build a customized journey without any code/ dependency on the Dev Team.

It creates a consistent brand presence across all your channels and touchpoints.

It helps you create a seamless customer experience for your users.

It helps you collate all the user actions in a single place and take calls based on them.

It is easy to analyze all the channel's performance in a place.

Act on real-time insights