Localization helps marketers to reach out to their target audience in the language of their choice or to message them differently basis their location, language or what have you.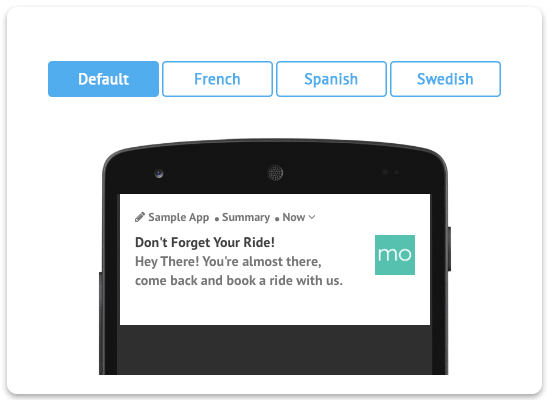 Combining deeper behavioral segments with localization you can:
Target users in different languages with the same message within a single campaign.
Target users in different geographies with different messages in a single campaign.
Target different age groups or gender with different messages in a single campaign
Create Locales
Locale is a criteria basis which you want to further sub-segment your target audience to send them a Localized message.
To create any new Locale, go to Settings -> App Settings -> Locale Settings and click on Add New Locale.


While adding a new locale, configure locale name and definition. e.g. Say we have a locale called English which should cover all the users for whom Last Known Country is US. You can use single attribute or a combination of attributes (either AND or OR) to define a locale. Save the locale once you are sure about the definition.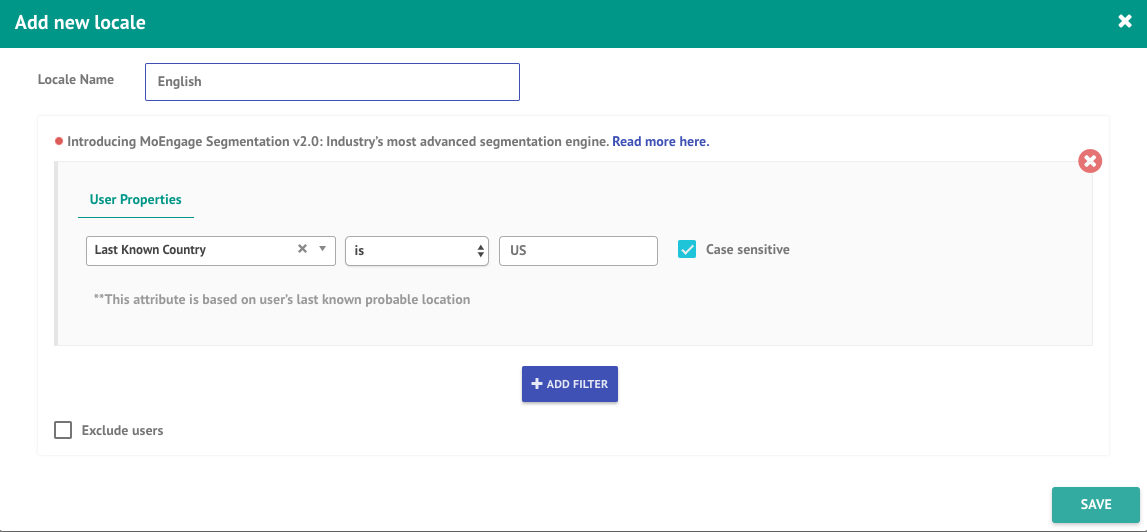 Using Locales in your campaign messaging
Once your locales are configured, you can start using them in your campaign messages.
To know which channels currently support Localization, refer to this:


| Channel Type | Delivery Type | Supported |
| --- | --- | --- |
| Push | All + Flows | Yes |
| Email | All + Flows | Yes |
| SMS | N | No |
| In-app | NA | No |
| On-site | NA | No |
To create a campaign, go to Create Campaign and choose the type of campaign that you want to publish. In step 2, Messaging, of campaign creation, configure your default message and then to add a localized message, click on Add Localized Message and you will see the list of existing locales. You can choose any of the existing locales to send message to or Add new locale as per your requirements.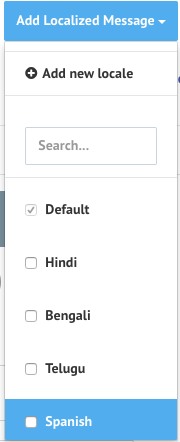 Once you add a Localized message, you can choose to configure a new message or copy from existing locale messages. If you choose to copy the message from selected locale, all the variations and all the message fields will be copied from that locale.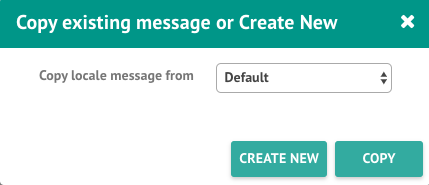 You can switch between different localized messages by clicking on the tabs. Selected Tab is highlighted in blue color:

You can edit the copied fields as per your use cases i.e. keeping some fields same (like Image URL or Action URL) while changing others like message. Once the message is set, review your campaign messaging and create the campaign.
Once your campaign is created, you can always comeback and edit the campaigns. You can:
- change messages for any locale
- Add or remove a localized message to/from the campaign
If you want to check what users received or clicked the notifications from a certain locale in a specific campaign, you can go and check segmentation with queries like below:

Here 597098c59202f0236c8225e0 is the campaign id for the particular campaign and L_5 is the Locale Number (You can find Locale Number/Locale Name mapping in Locale Settings).


Note:
1. If you are using A/B testing along with Localization, all the locales should have same number of variations. If you remove it from one Locale message, it will be removed from all the others.
2. Locale definitions for bulk campaigns are refreshed once a day. Hence your users will be targeted in the bucket they belonged to when locales were last refreshed. For Smart Trigger campaigns, it will be checked on a near real-time basis (a lag of 15 mins) whether user belong to which locale.
3. If your Locale definitions are not mutually exclusive and if by chance, a user satisfies the criteria of two locales present in a campaign, user will be sent message for the locale which was added first to that campaign.
Locale Stats
We also provide locale performance stats at campaign level (currently supported in Push Campaigns) To understand these stats in more detail, pls visit https://help.moengage.com/hc/en-us/articles/209790803-Campaign-Analytics-for-Push-Campaigns#locale