MoEngage Dashboard allows you to create user segments and send targeted push/in-app/email campaigns for your app/website. Additionally, you can also discover exciting analytics such as uninstalls, acquisition, retention cohorts and insights through campaign performance, user conversion data etc.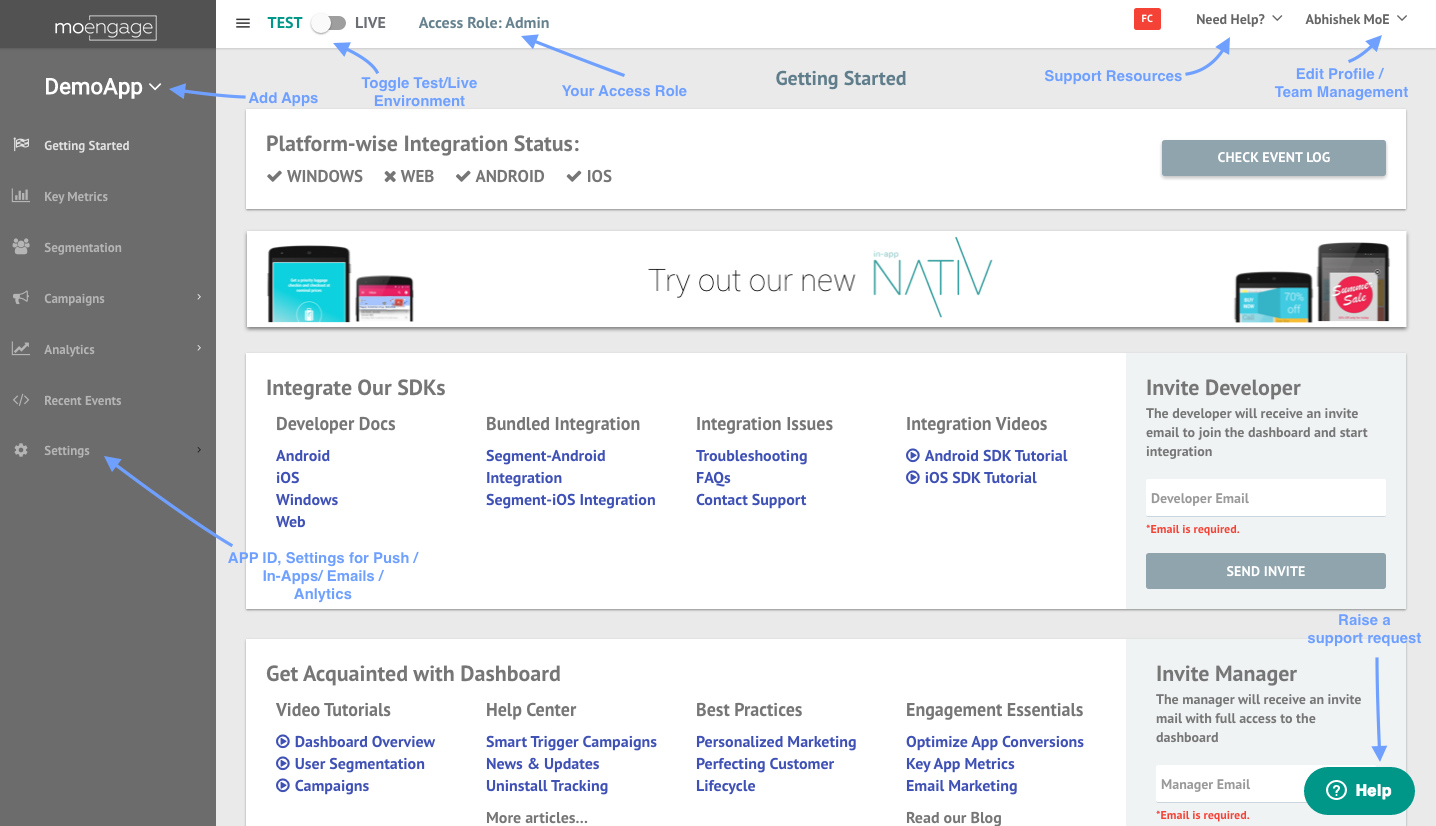 When you login to the Dashboard for the first time, you will see the Dashboard in TEST environment. This is where you will start getting user/events data when you start integrating your app/web. Once you are complete with integration/tracking events and decide to release your app/make your website live, you can just click on the toggle on top bar to switch to LIVE environment. Read more about TEST/LIVE environment here
The first step in setting up the dashboard is to access the Settings available on the side-bar as shown below: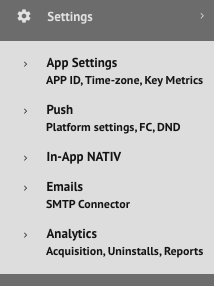 App Settings
Under App Settings, you have access to APP ID for SDK integration and Time-zone. Select the time-zone from the drop-down to correctly schedule campaigns to your customers as well as see all data as per your local time-zone,
You can also update App Conversion Goal and Attribute to see insights on app conversions. These attributes, once configured, show up in Key Metrics on dashboard. Read more about Key Metrics here.
Push
You can read about Frequency Capping and Push Throttling in respective articles.
Based on the platform that your app/website supports and where you want to send push notifications to, you should enter and upload the respective settings under Android/iOS/Windows/Web Push Settings.
Read more about SDK integration details here to update these settings.
Read more about configuring Web Push settings
In-App NATIV
You can configure all In-App NATIV settings here. To begin with, you can configure delay between in-apps.
Emails
Email campaigns mandatorily require Email SMTP settings to be set up on the dashboard. You can set up the SMTP attributes depending on your Email Service provider. More details about email settings can be read here.
Analytics
Here, you can configure Acquisition,Uninstalls and Reports settings.
APIs
This will allow you to obtain the API IDs and Keys for - Data APIs and Transaction Push APIs
Your Dashboard is now fully set up now to start creating segments and launching targeted campaigns. Read more about creating user segments and campaigns.