You can send personalized emails to your users based on their attributes or send smart triggered emails based on user behavior. Before you start creating email campaigns, make sure you have configured email settings.
To create a general email campaign:
Navigate to MoEngage Dashboard > Campaigns using the side navigation bar.

Click Create Campaign > Email Campaign on the top navigation.

Click Create button in the General Email Campaign.

Step 1: Target Users
Create a name for the campaign and define the campaign target audience
Select a name that helps you identify the campaign while managing the campaigns later. The campaign name should have a minimum of five characters.
The target audience or the target segment for the campaign is selected in two ways:
All Users
Send the email to all the users with valid email addresses. Click on Show Count to show the count of users with valid email addresses (users who have an Email attribute and email has not bounced/unsubscribed/complained).

Custom Segment
You can target any of the custom segments saved during segmentation by selecting this option. It gives you an option to search the custom segments by name. Learn more about custom segments here.

After selecting the desired target segment, click Next to navigate to the "Content" tab
Step 2: Content
Select an email template, compose an email message, preview and save the email template
You can choose between Drag and drop editor and contextual templates (Custom Design, Paste HTML, ZIP upload). Additionally, you can select previously saved templates under My saved templates after you have saved your created templates.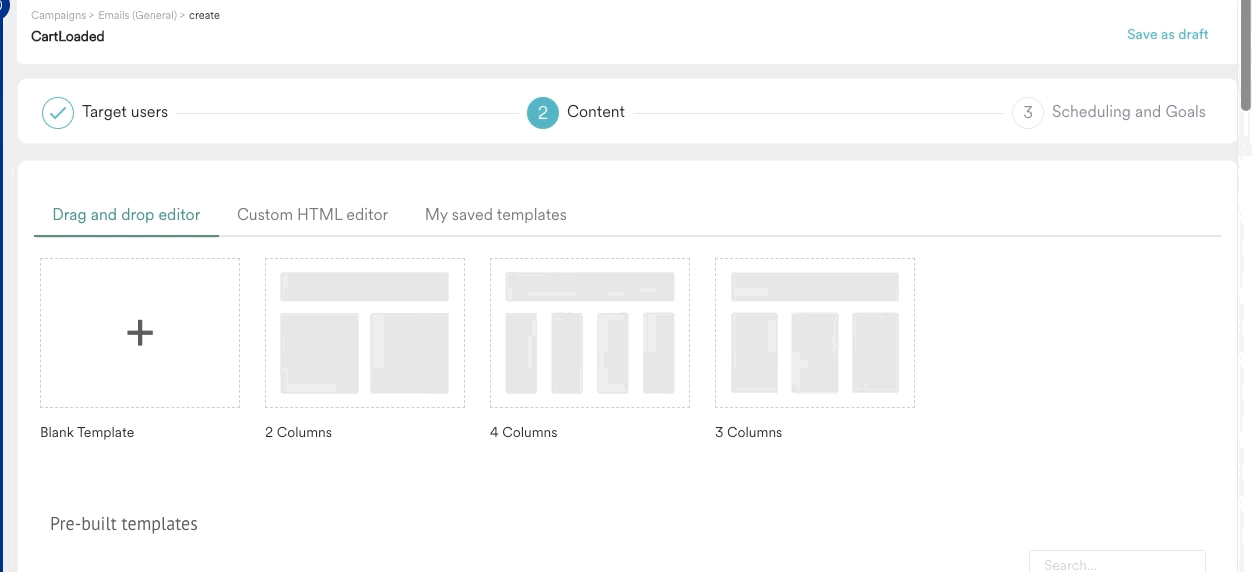 After you select a template, on the next screen you can enter email credentials and edit the content as follows: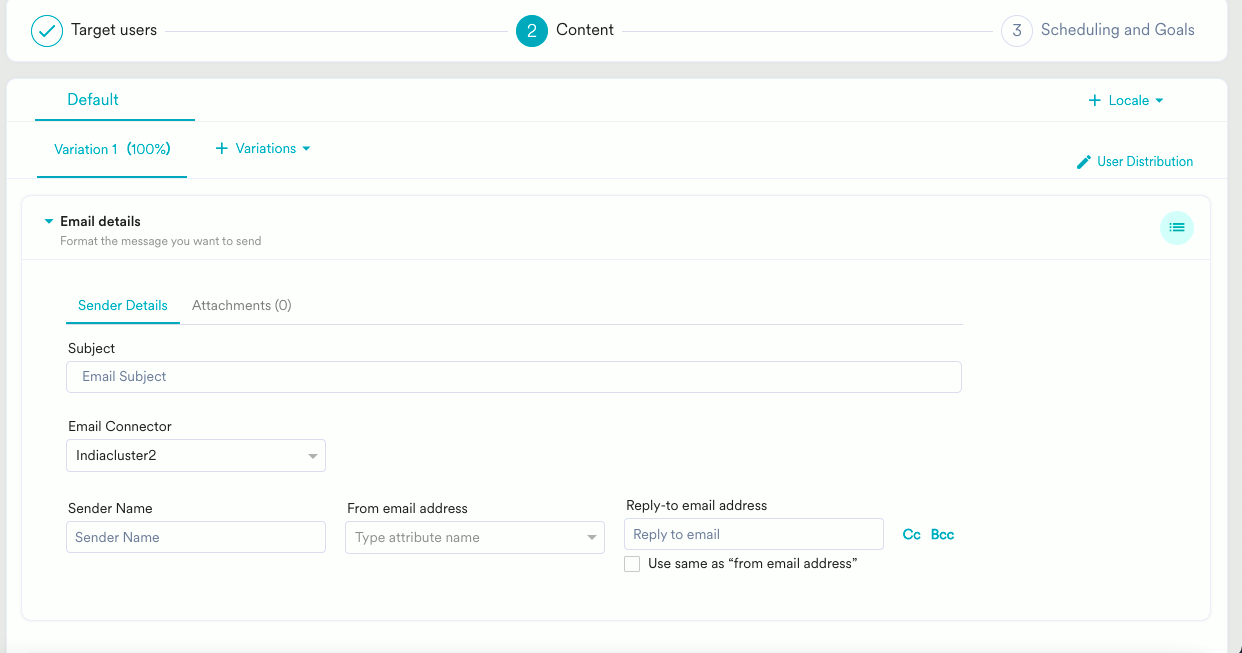 You can personalize the Email Subject and Email Content (including any URLs). Type "@" and select among the list of user attributes. You will also need to select a fallback mechanism that applies when a personalization attribute is missing for a user. Read more about personalizing emails here.
You have to enter Sender Name and select a "from" email address from the drop-down. If you do not see any email addresses in the drop-down, it is likely that you have not added/verified "from" email addresses in email settings.
There are additional options to
See Email Tips,

Preview the email for laptop/mobile

Save the template being created.

Additionally, you can change the email template by clicking on the "Change Template" button.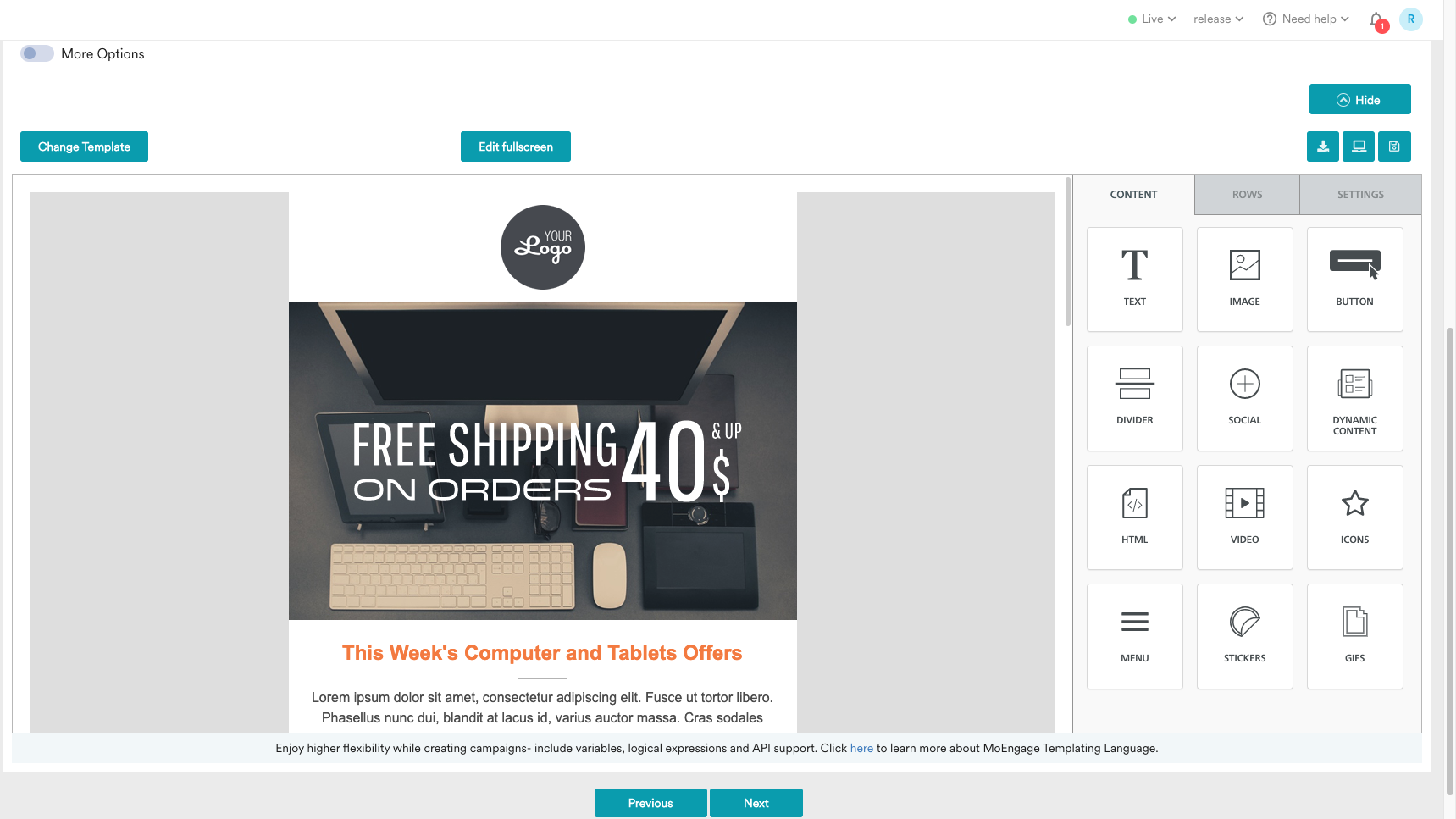 Do not forget to insert an unsubscribe link in your email template. Read more about unsubscribe tracking mechanism here.
(Optional) Running Test Campaigns
Test campaigns enable previewing the campaign or testing for certain custom segments to make sure the emails are displayed with target segments - exactly the way it was meant to. You can test the campaign you have just created by either selecting a custom segment (this will create a test campaign which you can view on All Campaigns page) or entering comma-separated email addresses.
In this option, no personalization will happen - it is primarily used to see how your email actually appears.

After composing the email, click Next button to navigate to "Scheduling and Goals" tab
Step 3: Scheduling and Goals
Select a scheduling type and conversion goal for the campaign.
Three types of schedules available for Email Campaigns:
As soon as possible: This starts the campaign as soon as it is created.
At a particular date and time

: Enter the date, time, and timezone for this scheduling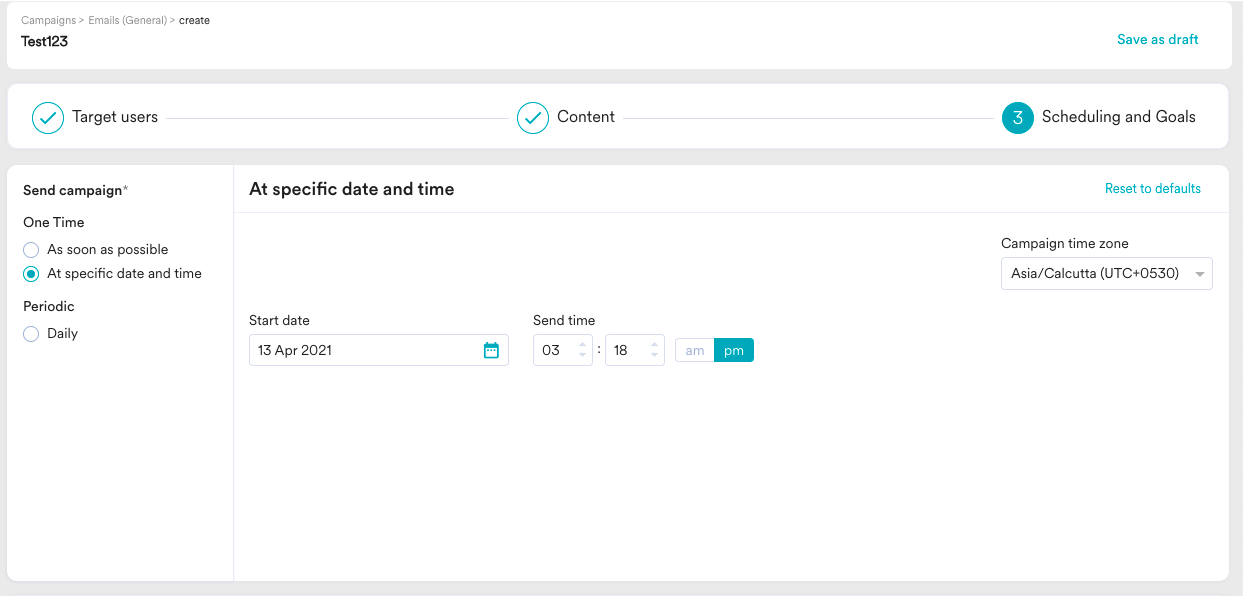 Periodic/Recurring: This scheduling creates multiple campaigns scheduled at a particular time in a time-zone after every defined number of days. This requires an expiry date to stop the recurring campaigns.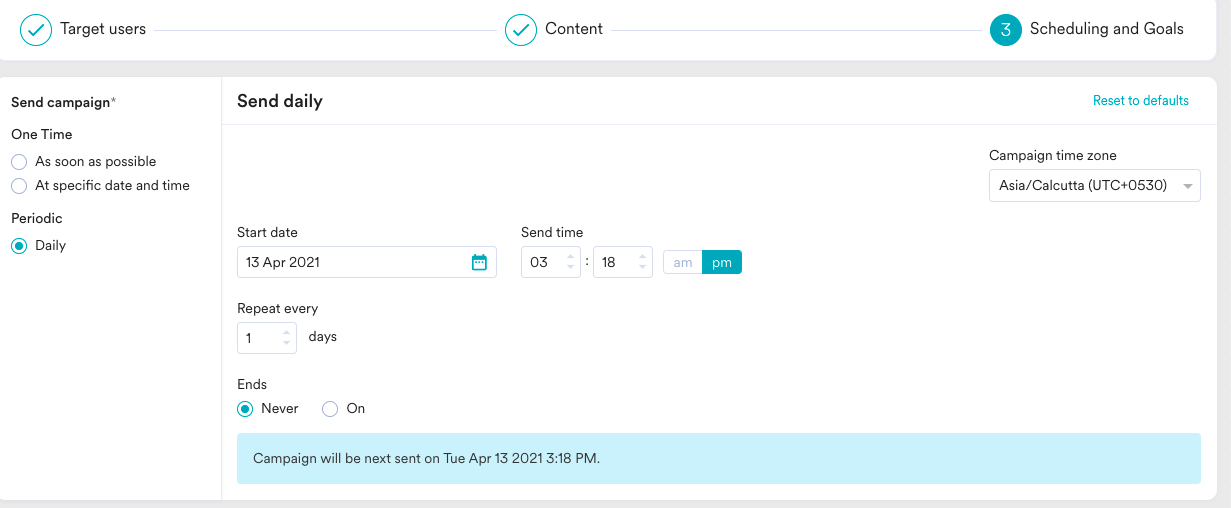 After deciding on the scheduling, you can set the campaign conversion goal to understand the conversion activity tracked from running the campaign. Through this, you can tie the success of the campaign to conversion activities such as Item Purchased. You can also associate an attribute such as "Revenue" with the conversion goal

Your campaign is now ready to be sent. Click on Publish button, confirm in the dialog box and your campaign is created. Upon successful campaign creation, you will be taken to the campaign info page where you can view the campaign performance stats such as sent, opens, clicks, conversions, unsubscribes, bounces, and so on as mentioned in this article.
Next, you can understand how to manage (view, edit and duplicate) campaigns.