Before proceeding to this, we would recommend you to check how to create connector campaigns. You can use connectors to send SMS via any SMS Service providers.
Note: Gupshup is also available as an integrated provider on MoEngage dashboard. This means you can directly go to SMS settings page on MoEngage dashboard, fill in the required fields and you are good to go. For more details on how to use integrated providers, please check this page
Use the steps mentioned below if you want to set up SMS Gupshup API as a custom connector.
Before creating the campaign, ensure that you have UserId and Password for SMS Gupshup Account. These are the credentials to login into your Gupshup account. If you are not able to find these, reach out to your contact in Gupshup.
Then, Go to Settings>> SMS & Connector >> SMS Connector Config. On this page click "Create" corresponding to Custom Connectors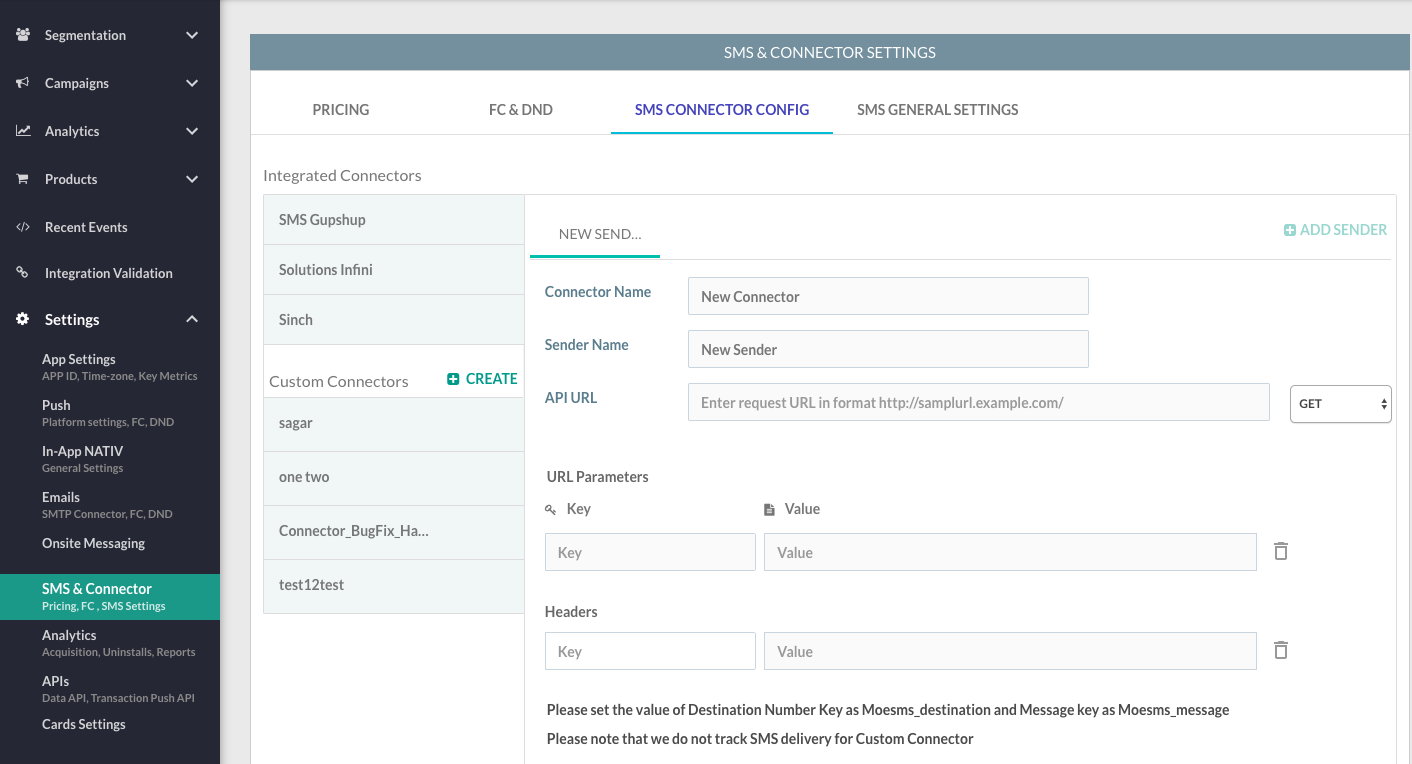 Step 1:
Set a name for the Connector and corresponding Sender. You can create multiple Senders corresponding to a Connector or SMS provider. Refer this page for more information on how to do this.
To create a SMS campaign, move to Create Campaign and go to Connectors. Click on Create custom connector.
Step 2:
We are quoting below example using API of SMS Gupshup to send simple (non-unicode) text SMS. You can read complete API documentation for SMS Gupshup here.
Configure Webhook URL
Use GET Method to send the API request.
Webhook URL : Just copy this in Webhook URL Field : http://enterprise.smsgupshup.com/GatewayAPI/rest?method=SendMessage&send_to=918884664443&msg=This is a test message&msg_type=TEXT&userid=Username&auth_scheme=plain&password=Password&v=1.1&format=text
Once copied, URL params will be populated automatically. You should be able to see something like this:
Change value for these keys:
Userid and Password - Set as per your account credentials
send_to - In send_to field, you can personalize [using @] it to select user's mobile number. Ensure that selected attribute consists of user's mobile number with country code - 91.


If you are saving the Mobile Number without country code, prefix 91 to your selected attribute. e.g.

msg - Configure the message that you would want to send in the msg text field above. Ensure that you use the approved template (approved by your SMS provider - Gupshup in this case) in the message (msg) for transactional type messaging.
msg_type - Should be text for plain text message; Should be unicode_text for unicode messages.
Step 3:
Do a test SMS to make sure everything is set up correctly. And finally click Save to save the settings.
Now you are good to proceed with SMS Campaign creation. Pls check this link for the steps to create a SMS Campaign.