To send an SMS via MoEngage, you need to integrate with an SMS service provider. MoEngage has native integrations with some SMS providers - Gupshup, Kaleyra, ICS, Sinch, and Twilio - present under the hood Integrated Connectors in MoEngage SMS settings page. MoEngage can work with you to set up an account with any of these providers or you can also configure your existing account with any of these providers on MoEngage.
If you wish to integrate with a provider apart from the ones mentioned above, you have to work with the provider to set up an account and configure it on the MoEngage dashboard as SMS Custom Connectors.
SMS Connector Configuration
You can configure multiple senders or SMS service providers using both integrated and custom connectors.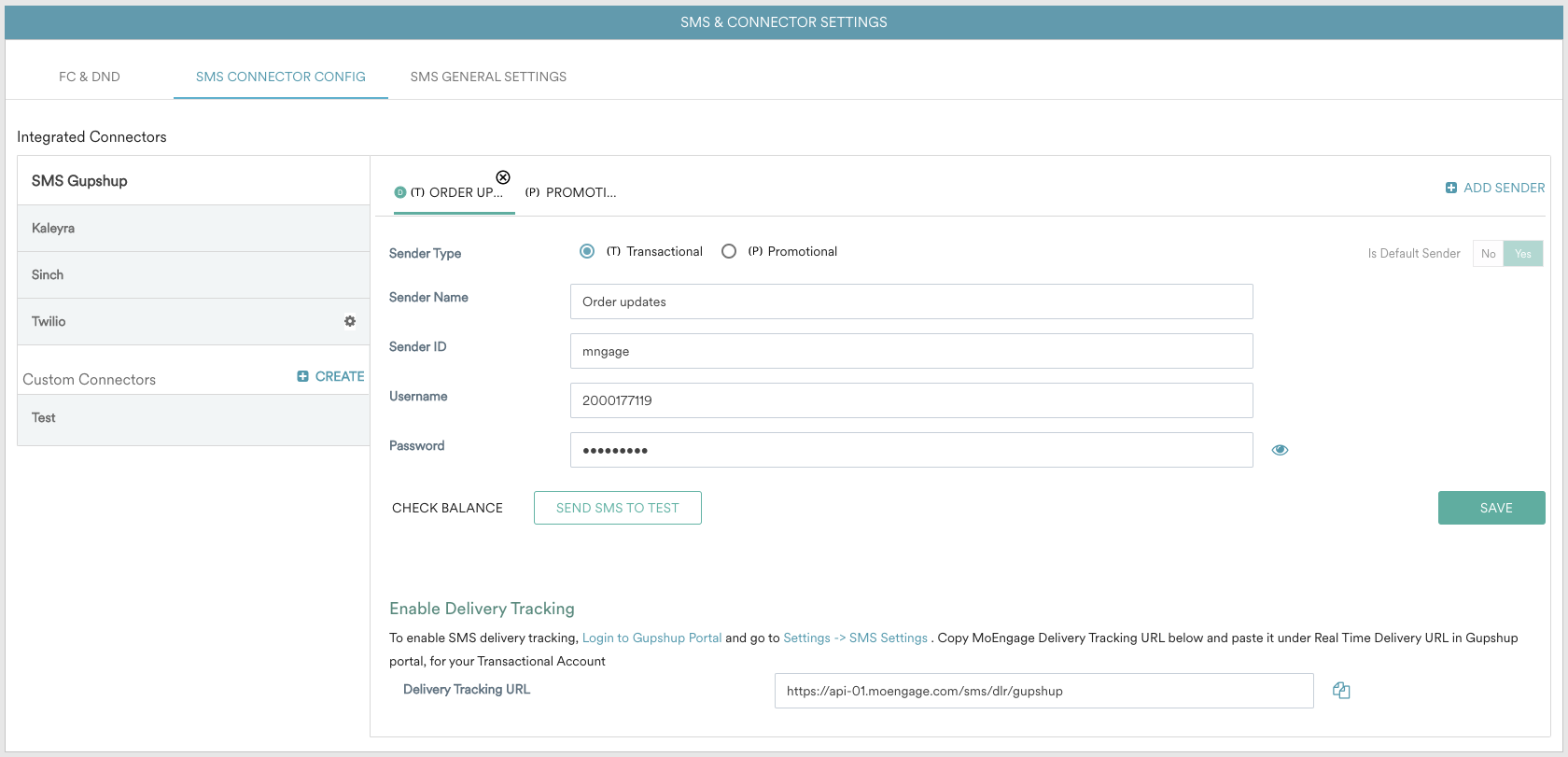 Refer to the following articles for detailed steps on configuring each SMS service provider.
Configure Sender
You can configure multiple senders for a particular SMS Connector and streamline your SMS communications for different brands or types by having separate threads. Moreover, you can then choose different senders for different SMS campaigns during SMS campaign creation.
Add Sender
To add a sender, go to SMS settings > SMS Connector Config. Select the Connector you want to use, it can be an integrated connector or a custom one. Click on the

button. It will create a new tab. Set a sender name, set the type as Transactional or Promotional, enter the credentials. Once you click on Save, the new sender gets created.
The below screenshot shows SMS GupShup having 2 Senders - 1 for sending promotional messages and other one for transactional messages - identifiable by(P) & (T) respectively.
If you are sending SMS to Indian mobile numbers

In the Sender ID field, please ensure that you add the Header ID approved under the DLT platform. More details on DLT are captured here.
If you will try to send SMS via an unregistered header, your SMS will be rejected and will not be delivered to the end-users.
Delete Sender
To delete a sender, go to the Sender tab and click on "X" button as shown here:

You will not be able to delete a sender if it is also set as a default sender.
Default Sender
A default sender is the one which will be picked up by default for sending all SMS campaigns, unless you choose a different sender at the campaign level. You can set a sender as default by simply using the toggle button

The default sender can be identified by the green circle containing D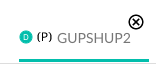 . There will be only 1 default sender across all the connectors and each connector will not have its own default sender.
Deleting a default sender

If you delete a sender and that sender also happens to be associated with a campaign, then the default sender will be used as a fallback and the campaign will now be sent via the default sender.
Add Sender to customer connector
You can add multiple senders, delete senders and set any one of them as default under Custom Connectors as well.
In addition to this, you will get 2 options when you try to Add a Sender in Custom Connector:

1. Copy details from an existing sender: Choose this option if your new sender will have similar parameters as the existing one and only a few parameters will be changed. This will help minimize the additional work. This is applicable only within a connector, meaning that you will not be able to copy details from sender of 1 custom connector to another sender of a different custom connector.
2. Enter new details: If the new sender is going to very different from the existing sender, then you can choose this option and all the details afresh.
SMS General Settings
Refresh the page and choose the SMS Provider from the drop-down in MoEngage Dashboard > Settings > Channel > SMS & Connector > SMS General Settings.
Set the attribute for saving your user Mobile Number, so that MoEngage can use the attribute to send an SMS.
MoEngage standard attribute name for mobile number attribute is Mobile Number (Standard). This is a standard attribute where name is provided by MoEngage and the value is provided by the client.

FC & DND
Frequency capping
Frequency capping allows you to limit how many times SMS will be sent for a user during a particular time period.
Enable Frequency Capping
To enable Frequency Capping go to Settings-> SMS & Connectors ->SMS FC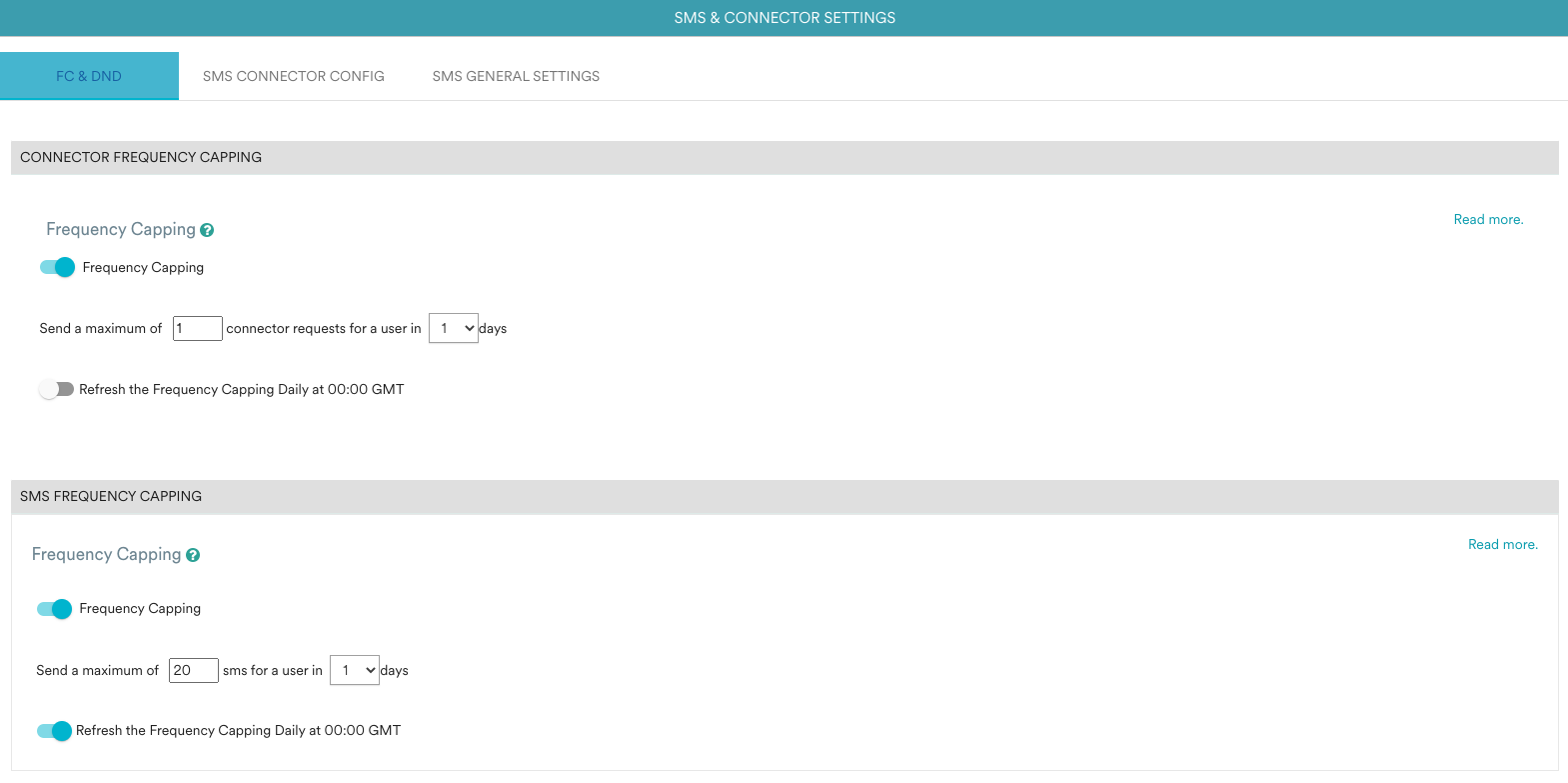 Set the value to the desired number as per your communication policy.
You can also choose to reset the Frequency Cap at 00:00 GMT daily. It is useful when you send your campaign late on a day and want to send an early morning campaign the other day. Do not forget to click on Save Button to save your changes.
How does it work?
For example, a marketer has set Frequency Cap as 2 in one day. In that case, SMS will be sent for a user a maximum of 2 times (combined total for scheduled as well as triggered deliveries) in period of 1 day. These SMS will be sent on first come first serve basis.
Do not disturb
A Smart Trigger SMS or Connector campaign is sent when a user does (or does not do) a defined action in a defined time (for example, "Added a product to cart" but "Not Purchased" in 2 hours). It is possible that some of these SMS or Connector notifications are triggered at odd hours (for example, if the user added a product at 10:00 pm, the corresponding message will be sent at midnight). DND feature allows you to configure idle hours during which your customers should not receive smart trigger SMS/ Connector notifications.
Setup DND
You can set up Do Not Disturb (DND) time interval in the following steps:
Step 1: Navigate to MoEngage Dashboard -> Settings -> SMS & Connector Settings
Step 2: In the FC & DND tab, click the Do Not Disturb (DND) toggle button and enter the time interval for which you wish to not send the triggered SMS/Connector notifications.
Note that the DND time intervals are applicable for end-user based on their respective time zone (fetched from the device). In case, device timezone data is not available DND will be applicable according to app timezone. You can find the app timezone from Settings (sidebar) ->App Settings (under Account Settings). In a rare case, where the App timezone is not available as well, DND will be applicable as per GMT.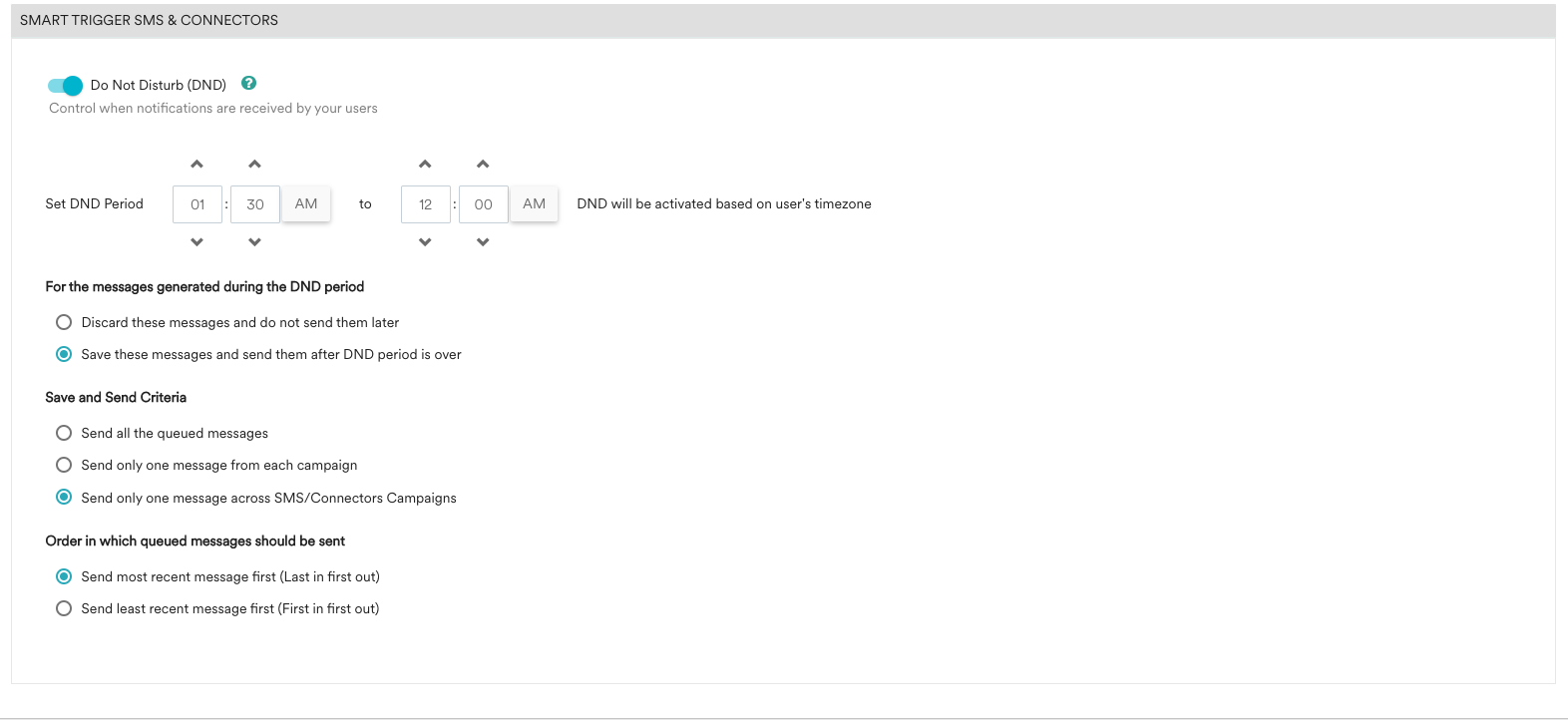 You can configure the following save and send options:
For the messages generated during the DND period
Save and send the SMS after the DND period is completed or discard and do not send the message.
Save and Send Criteria
Select one of the following:Send all the message available in the queue.Send only one message from each of the create campaigns.Send only one message from all of the SMS or Connector camapign.
Order in which queued messages should be sent
Send the most recent message in the queue (Last in First out) or send the first message recieved in the queue (First in First Out).
DND Settings are applicable to the campaigns created inside a MoEngage Flow as well. For more information, refer to Flows Frequency Capping.