Every MoEngage account for an app/web now provides two different environments - TEST and LIVE. We support this with a single APP ID (available under App Settings) which is your MoEngage identifier. 
All our SDKs (Android, iOS, Windows and Web) released after June 9, 2016 can internally detect if the app (that is being integrated) is DEBUG build and send user/event data to TEST environment. Similarly, our SDKs will internally detect if app is RELEASE build and send data to LIVE environment
For existing MoEngage customers, if you are making changes for updating your app/web or integrating for the first time, you can test all new changes (event tracking etc.) on TEST environment before pushing the app update or releasing the web. 
You can switch between LIVE and TEST environments by clicking on the Toggle button on the top bar in your MoEngage account.

Note: Besides Team Management, Billing and your Profile settings, all other settings are separate for TEST & LIVE environments and available in the sidebar.
           LIVE SETTINGS                                        TEST SETTINGS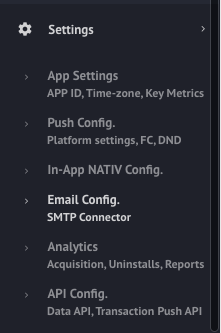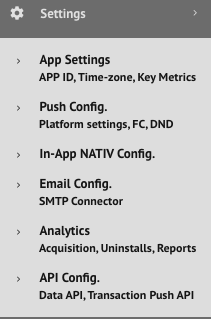 TEST Environment
This environment is indicated by different and new colour theme and toggle switch towards TEST.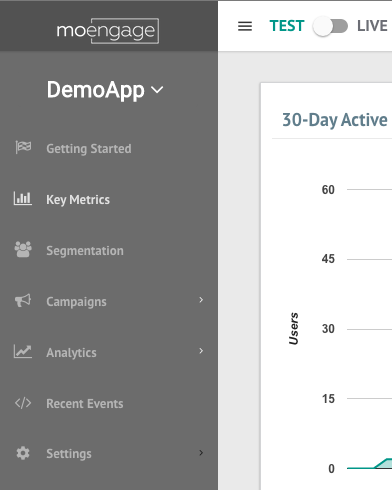 When you begin integrating any of the MoEngage's SDKs, all your testing user/events data can be seen in this environment - to enable you to test your integration and verify data before you go live or release your app/web.
Advantages of TEST environment -
All added team members to TEST environment have all feature permissions in TEST environment - everyone can experiment with different scenarios
All test data in the TEST environment is processed and reflected faster saving crucial time during initial integration and making debugging easier
You can easily maintain and test different settings - Push FC, Smart Trigger DND, Uninstalls - for TEST & LIVE environments without any mutual impact
LIVE Environment
This environment is indicated by our original colour theme and toggle switch towards LIVE.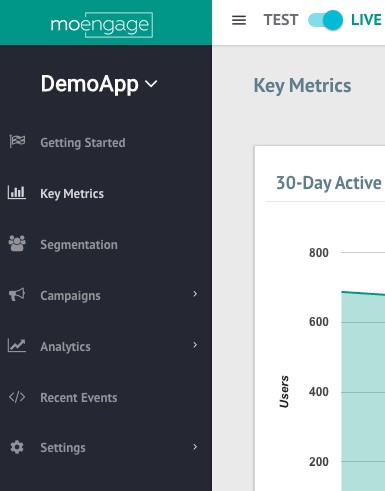 Once you have completed integration and decide to release your app or take your website live, our SDKs detect the RELEASE build and send all live user/events data to this LIVE environment.
LIVE environment has feature restrictions for different access roles to prevent any mistakes/changes by any of your team members that can impact live user data and campaigns such as  -
Developers have to specifically mark certain users as test users before they can create any campaigns or run any segmentation queries in LIVE environment. Read more here about Test users here.
Also, Developers can not change Push FC and DND settings in LIVE environment.
In case you are facing any issues, you can click "Contact Support" under "Need Help?" drop-down menu.