Overview
2-Step Verification, also known as two-factor authentication (2FA) is the process of requiring a person to verify their identity in two unique ways before being granted access to the system. 2FA adds an additional layer of security to the user's account by actively involving the user in the process of ensuring their account's safety. If a password has been compromised, the password alone isn't enough to log in to the account. The security key or OTP that is generated needs to be keyed in to gain access to the account. This effectively renders the compromised password useless.
Benefits of 2FA
Stronger security due to an additional layer for authentication
Reduces the risk of compromised credentials
Compatible with Single Sign On
2-Step Verification
With 2-Step Verification, you will sign in to your account in two steps using:
Step 1: Something that you know - your email id and password
Step 2: Something that you have - such as an access code delivered to your phone or another device
NOTE

MoEngage currently supports 2-Step Verification by apps such as Google Authenticator or Authy.
Enable 2-Step Verification
To enable 2-Step Verification, you need to navigate to Settings >> Login settings >> 2-Step Verification as shown below.
Download any authentication app- Google Authenticator App or Authy.
Click set up the device. Scan the QR code and enter the authentication code to complete the setup.
Once enabled, subsequent logins into the dashboard will require you to enter your second authentication.
NOTE

You can also download your recovery codes. Recovery codes are one-time backup codes that you can use to access your account. MoEngage provides a set of 10 recovery codes.
Enabling 2FA for all Users
Two Factor Authentication can be enabled for all users using the 'Enable' toggle button shown below.

Once the Enable toggle is turned on, the following screen appears.

Once you 'Confirm', 2FA gets enabled for all the accounts in your teams. Select the 'Send email to your team' to trigger an email to every account in the team for which 2FA is being enabled.
Admins will be able to enable and disable 2FA for all users and make it mandatory for all users to have 2FA.
NOTE

MoEngage recommends that admins enable 2FA for every user in the system.
You can also download the details of all of the team's accounts and see the status of 2FA for each account. Click on the 'Report' hyperlink below the enable button for this.
New Login Process
Once the system validates your email and password credentials, you will be routed to the additional step here
Open your authentication app and enter the verification code on the screen.
Troubleshooting
Unable to set up 2 Step Verification?
2 Step Verification may not have been enabled for your account. In such a case, you will see the following screen when you click on Settings >> 2-Step Verification

Click on the Enable button and you'll see the following screen.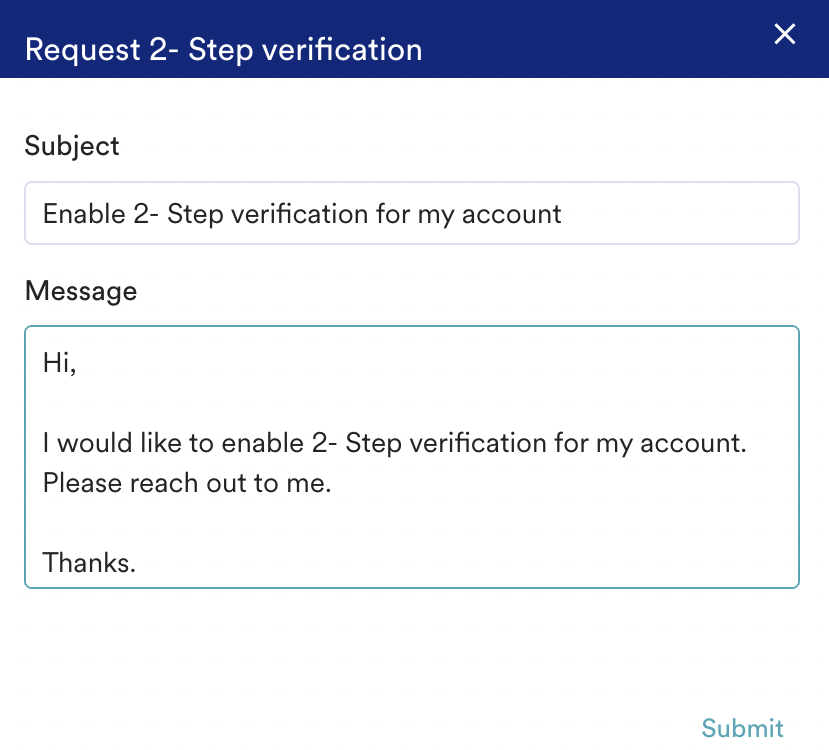 You will be able to send a request to MoEngage to enable 2- Step verification for your account. Within a couple of hours of raising the request, 2FA will be enabled for your account.
Don't have access to the authentication device?
Click on "Enter 2-step recovery code". You can use one of the recovery codes. You would have downloaded a set of 10 one-time usable recovery codes while setting up 2-Step Verification.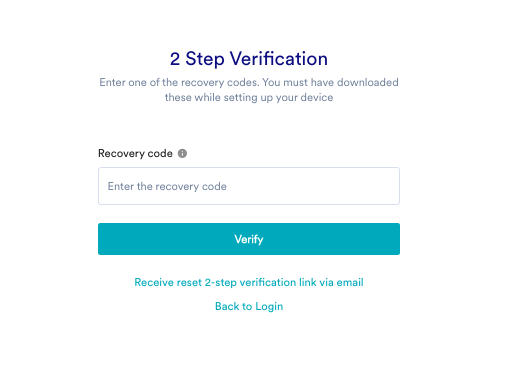 Don't have access to recovery codes?
You can choose to receive the login link in your email account. Click on the link in the email to reset your 2-Step Verification.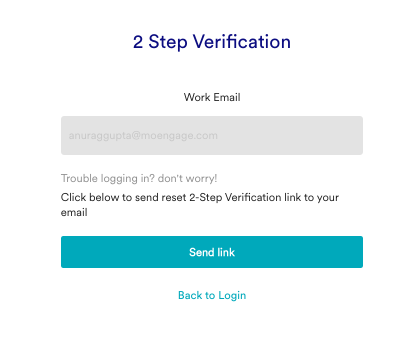 WARNING

You will have to re-configure your device once now.