Campaign approval allows marketing teams to control/review the campaigns that are going live by putting in place a creator-approver (maker-checker) approach. Marketing teams can decide which users are allowed to create the campaigns and which users have the privilege to approve them.

Enable Campaign Approval Workflow for your campaigns
Campaign Approval Flow can only be enabled by Admin or Managers. Navigate to MoEngage Dashboard > Settings > Account > Team Management to enable teams and create a workflow.
Once enabled, users in the Marketer role can create/edit campaigns and send for approval to selected Admin/Managers. Only on approval, campaigns will become live.
Assign Roles
Approver Role
All the Managers and Admins will have approver rights when Campaign Approval settings are turned ON.
Marketer Role
Campaigns created by Marketers have to be sent for Approval.
Since the Marketer role is a new role, you would need to add users to the Marketer role or change roles for existing users.
Send Campaign for Approval
After Approval settings are turned ON, marketers can create a campaign and send them to a list of approvers.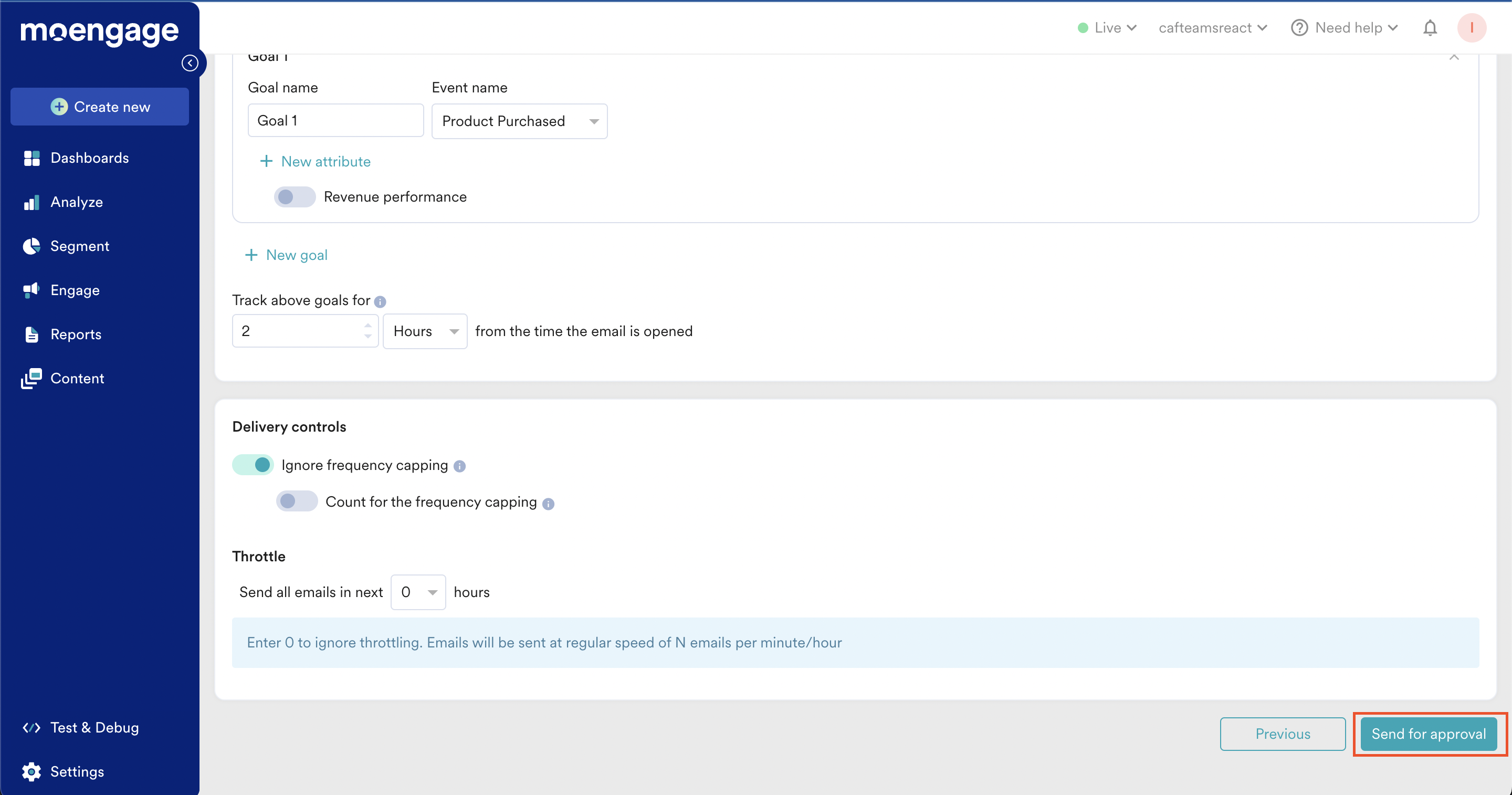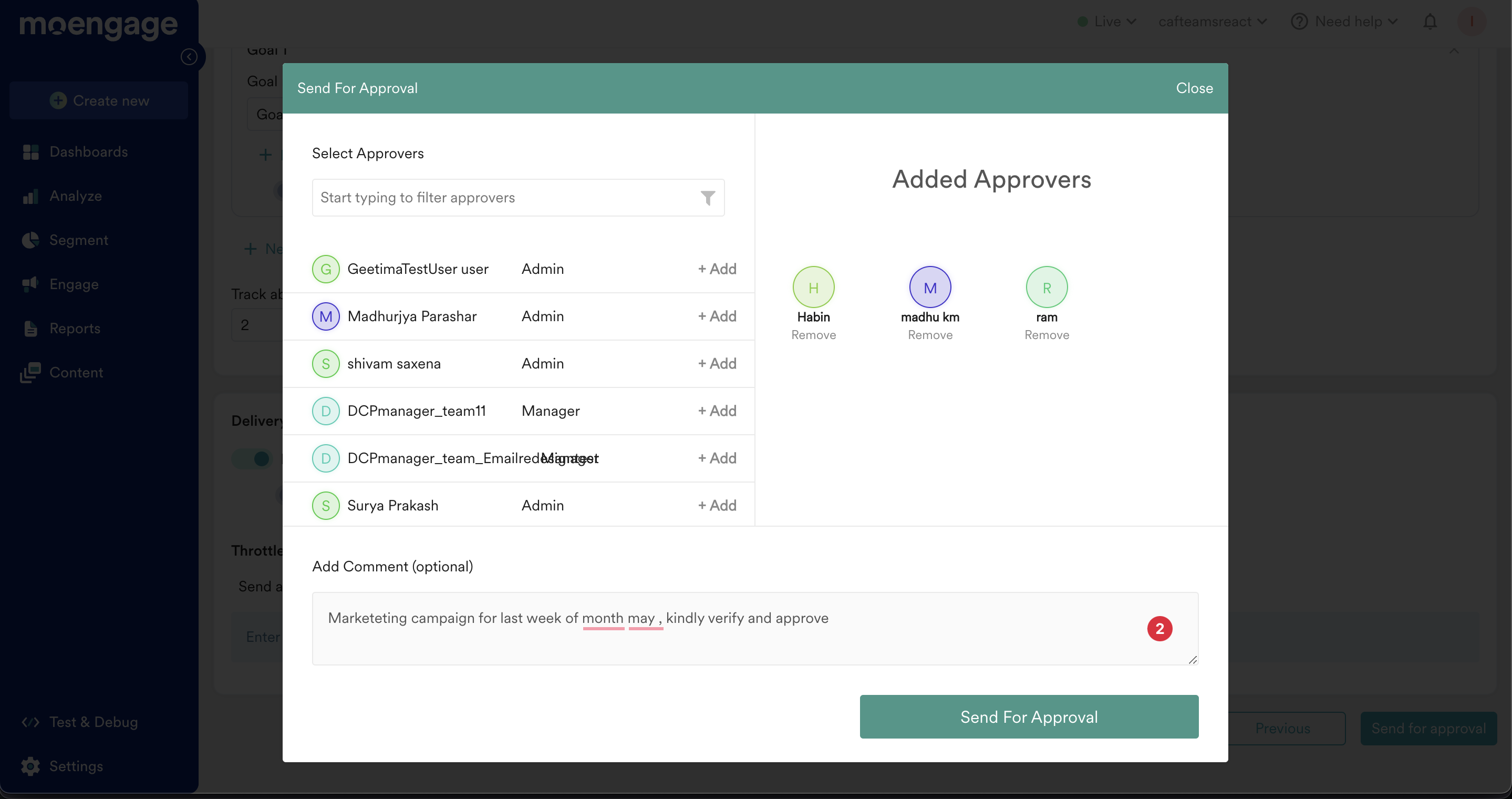 Approved/Rejected
When the marketer clicks on Send For Approval, all the assigned approvers will get the email for reviewing the campaign. Approvers can click on the campaign link in the email and they will get redirected to the specified campaign.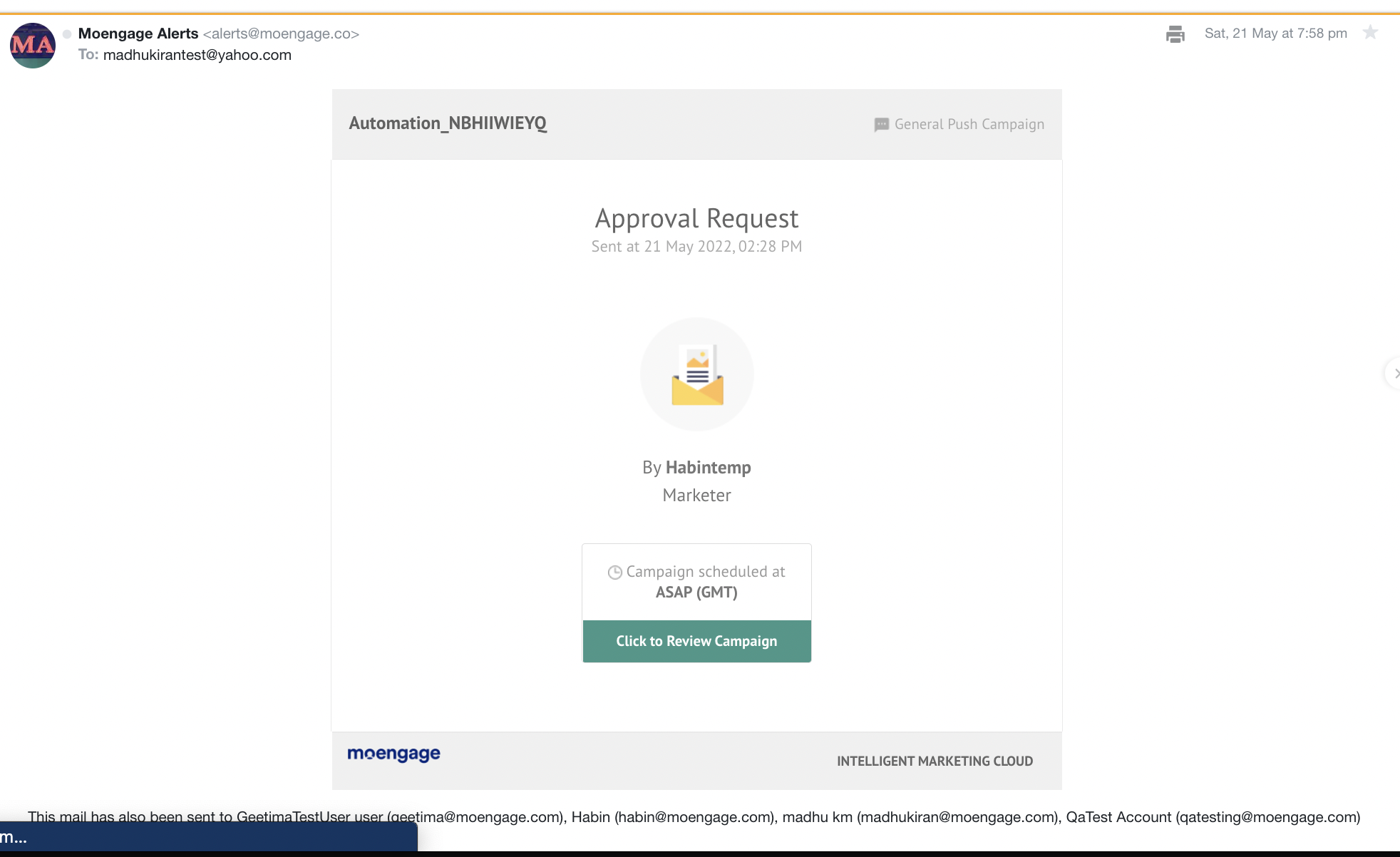 Now, they can review the campaign and choose to Reject or Approve it before the campaign sent time is passed.
If Approved, the campaign will become Live.
If Rejected, the marketers can edit the campaigns as per Approver's comments and send them again for approval.
Admin/Managers can also choose to edit the campaigns Under Review and make them Live with all the necessary changes.
info

Note

Marketers cannot edit the campaigns when campaigns are Under Review.
Only the approvers that were asked to review the campaigns can Approve/Reject them.
Admin/Managers cannot edit the Rejected campaigns.
The campaign Approval workflow is supported for Push, Email, SMS, WhatsApp, InApp, Facebook Audience, and Connector campaigns.
The campaign Approval workflow is not supported for Cards, Flows, Onsite Messaging, and Web personalization campaigns.