Add multiple apps to your account without having to sign up with different email addresses. You can also switch apps linked to your email address directly from within your MoEngage account.
How to add an app?
Click on the top navigation drop-down near your App Name.

Type the details in the dialog box that opens to add this new app.

Click Add App button and this App will be added to your account
Start integrating the newly added app with MoEngage SDKs.
How to switch between apps?
On the top navigation bar, click on the drop-down near your App Name and click on the app you wish to switch to.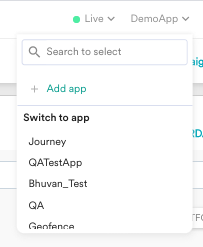 Your account will be switched to this app now.
In case you are facing any issues, on the top navigation bar click on Need Help > Support or contact support@moengage.com.