Import User Segments provides flexibility to create and target user segments that you may have identified through some user analysis at your end. You can upload and import a list of users containing one of the user attributes to identify that user and a custom segment containing those users will be created.
Step 1:
Navigate to MoEngage Dashboard > Segment > Custom Segments and click Upload CSV



Step 2:
Select the User Attribute your list is using. Select a file, custom segment name & provide an email where we can let you know once the segment is created.
Note if you don't see the segment after getting the email, just refresh the page.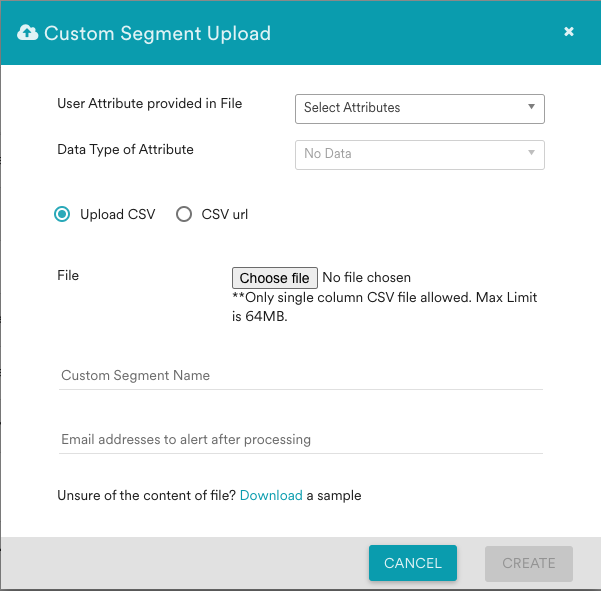 Custom Segment Availability
As soon as MoEngage systems receive the import custom segment request it creates the custom segment. After creating a custom segment, the system process the users and add those users to the custom segment.

Hence custom segment is available when the file is processing and also if the file processing is failed. When the processing gets completed or failed, status is informed about the same using email ( or callback URL in case of API file Segment)
In case file upload/processing is failed, you can use the same custom segment name and upload the file again. The system will add the new user to the provided custom segment. This functionality also enables adding new users to any existing file custom segment.
Custom Segment CSV upload is only applicable for existing users on MoEngage and not for users who are not on MoEngage. For more information about importing new users into the MoEngage system, refer to Import Users.