MoEngage recommends you read how to create connector campaigns. You can use connectors to send SMS using any SMS Service provider.
Marketers can use connectors to send SMS via any SMS Service provider. In this example, we will explain how to send SMS using Vonage SMS API.
Before creating the campaign, ensure you have following parameters for calls to Vonage API (Nexmo). You can find your Key and Secret in Vonage Dashboard. You can also read about Vonage SMS API here.
| Parameter | Description |
| --- | --- |
| api_key | - Your Key. For example: api_key=n3xm0rocks |
| api_secret | - Your Secret. For example: api_secret=12ab34cd |
To create an SMS campaign, navigate to MoEngage Dashboard>Engage> Campaigns and click Create Campaign. Click Create in Connector Campaign.
Step 1:
Add a suitable name for your campaign (e.g. you are creating a campaign to send out SMS)
Choose the Sending Type as per your use case. Say you want to trigger an SMS to customers who have done a certain event but have not received/clicked the notification sent to them, choose to send type as At trigger event.
Choose the target audience after you have decided on the sending type. You can target all the users or users who fulfill certain user criteria/behavior criteria.
Step 2:
Configure Web-hook URL (or Target Connector URL) . Choose GET/POST as suggested by your SMS API provider. The following example uses the SMS API of Vonage.
GET Method:

Once you enter your API Request URL, you will be able to see the URL parameters here: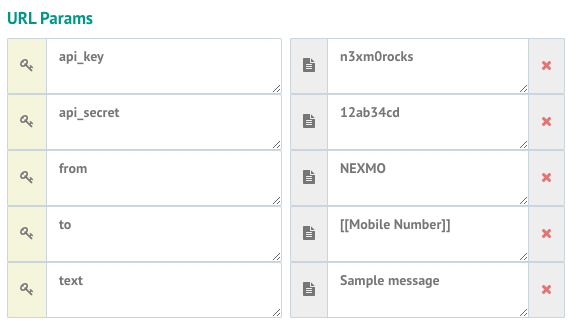 You can find your Key and Secret in Vonage Dashboard. . In the to field, you can personalize [using @] it to select the mobile number of the user. Ensure that the selected attribute has the mobile numbers of the user.
Replace From with sender Id of your account provided by Vonage. Configure the message that you would want to send in the text field above.
Note: Before sending an SMS campaign to your users, please ensure that two or more active/installed users are not mapped to the same Mobile Number. If they are, those users will receive multiple SMSs. You can avoid that by choosing Mobile Number as De-dup key in Step 3.
After the campaign is sent, the analytics page is displayed. Analytics is available within an hour from the time your campaign starts sending.
Next Steps