Before proceeding to this, we would recommend you to check how to create connector campaigns. You can use connectors to send SMS via any SMS Service providers.
Note: Solutions Infini is available as an integrated provider on MoEngage dashboard. This means you can directly go to SMS settings page on MoEngage dashboard, fill in the required fields and you are good to go. For more details on how to use integrated providers, please check this page
Use the steps mentioned below if you want to set up a Solutions Infini API as a custom connector.
Go to Settings>> SMS & Connector >> SMS Connector Config. On this page click "Create" corresponding to Custom Connectors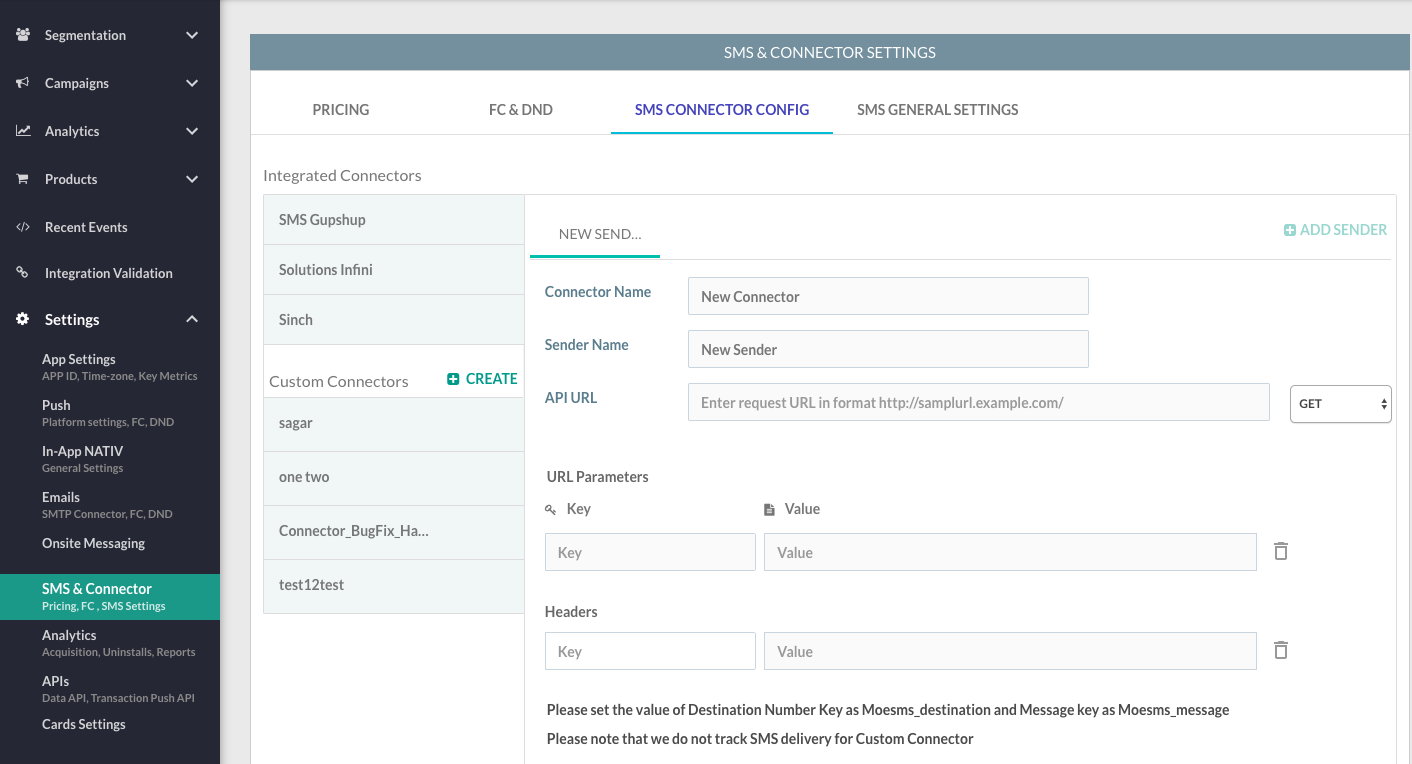 Step 1:
Set a name for the Connector and corresponding Sender. You can create multiple Senders corresponding to a Connector or SMS provider. Refer this page for more information on how to do this.
To create a SMS campaign, move to Create Campaign and go to Connectors. Click on Create custom connector.
Step 2:
Configure Web-hook URL (or Target Connector URL) . Choose GET/POST as suggested by your SMS API provider.
GET Method:
Once you enter your API Request URL, you will be able to see the URL parameters here:
Replace YourApiKey with API key provided by SoultionsInfini. In to field, you can personalize [using @] it to select user's mobile number. Ensure that selected attribute consists of user's mobile numbers.
Replace YourSenderId with sender Id of your account provided by your service provider. Configure the message that you would want to send in the message field recommended by your service provider.
Step 3:
Do a test SMS to make sure everything is set up correctly. And finally click Save to save the settings.
Now you are good to proceed with SMS Campaign creation. Pls check this link for the steps to create a SMS Campaign.