Connectors is a versatile solution from MoEngage through which you can execute a variety of use cases like using other channels (like SMS, Facebook messages), passing data to other owned/3rd Party analytics systems, sending audiences to Facebook/Inmobi Ads etc. In the scheme of things, MoEngage will act like a central hub for your data, to which you can plug and connect any system for the duration of your choice. Connectors gives you the liberty to target users across all communication channels including the ones currently not supported directly on MoEngage.
To create a connector campaign, navigate to MoEngage Dashboard > Engage > Campaign > Create Campaign > Connectors. Click on Create custom connector.

Step 1:
Add a suitable name for your campaign (e.g. you are creating a campaign to send out SMS)

Choose the Sending Type: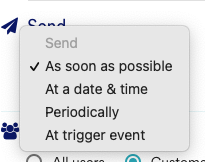 Immediately - Will start sending the campaign as soon you finish creating it
At scheduled time - Will allow you to send the campaign at any future date and time
On a periodic basis - Will allow you to send the campaign on a recurring basis at a specific frequency
At Triggered Event - Will allow you to send this campaign on basis of any trigger event
Choose the Target Audience

All users - Will allow you to target all your users
Custom Filters - Will allow you to configure and choose the filters to segment your audience while creating the campaign

User Property - Will allow you to target users based on the user property
User Behaviour - Will allow you to target user based on the user behaviour
Custom Segment - Will allow you to target a pre-created custom segment
Step 2 :
Configure Web-hook URL (or Target Connector URL) . You can use two methods to make this request GET/POST by toggling the drop-down.

You can also use personalized parameters using "@" symbol. You can use the tracked user attributes to personalize your connector requests. It will be particularly useful if you want to send a SMS to a User specific Mobile Number or send user specific data to a 3rd Party system using MoEngage connectors.
POST Method:
In POST Method, you will additionally be able to configure the Body for your requests. You have two options here:
1. Raw Body
2. JSON Key Value Pair (sent as a part of Raw Body)
3. FORM/POST Parameters

You can also add the required headers to your request.

Step 3:
If you create a connector to send data for a segment of users at once (or at a scheduled time), we hit the request URL with a minimum of 100 requests per minute. Please note that if estimated time to send the campaign exceeds 4 hours, we will automatically increase the requests per minute to finish sending in 4 hours.

Currently, the connectors use the same frequency capping setting as that of Push Notifications. This value will be applicable to all the sent connector campaigns (with send type as : Scheduled and Triggered).
You can choose to ignore the capping for your connector campaign by using Ignore Frequency Cap (toggling it to right). There might be few cases where you might want to ignore the capping but want this campaign to be counted.

e.g. Assume you have capping value as 3. You have already sent 3 campaigns today to a group of users. Now you realize that the SMS that is being triggered by this Connector campaign is urgent and should go on high priority even if some customers have already received 3 campaigns. If you will use Ignore Frequency Cap, people who have already received 3 campaigns will receive this one as well. If you use Count for Frequency capping, people who would have received 2 communications already and send this as well, their receipt count will become 3 after this campaign is sent.
If your chosen sending type is Triggered, in Step 1, you can set the Trigger criteria. e.g. You want to trigger a connector request to SMS Provider when user has done an App Open event but has not made a purchase with-in two hours of opening the App.

Your payload in Step 2 can be similar to what you had above.
Step 3: You can also decide the minimum delay between two requests made for a specific user fulfilling the trigger criteria.

Also the connectors can be triggered at any point of time. But we might want to restrict them in Sleeping hours or Do Not Disturb Hours. Currently the connectors use the same DND Settings as that of Smart trigger push notifications. By default these settings will be applicable on your Connector campaigns. You can, though,choose to Ignore DND Settings for the campaign by checking the box below.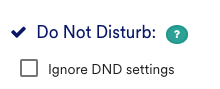 Once you are done setting the Connector campaign, you can read here how you can test Connectors. If you have successfully created the campaign, you will be taken to the Analytics page. Read more about Campaign Analytics for Connectors here.