Currently, MoEngage enables you to create three kinds of push campaigns:
1. General Push Campaign
Targeted to a particular user segment, it can be send at a scheduled time - once or on a periodic basis.
2. Smart Trigger Push Campaign
Triggered on user actions ex. when a user with a particular attribute views a product, a targeted push message will be triggered.
3. Geo-fence Push Campaign
Triggered when a user enters/exits a defined perimeter in a defined location
In this article, we describe the steps in creating a general push campaign
Navigate to MoEngage Dashboard > Campaigns and click Create Campaign > Push
Click on Create Button in General Push Campaign under Push Campaign tab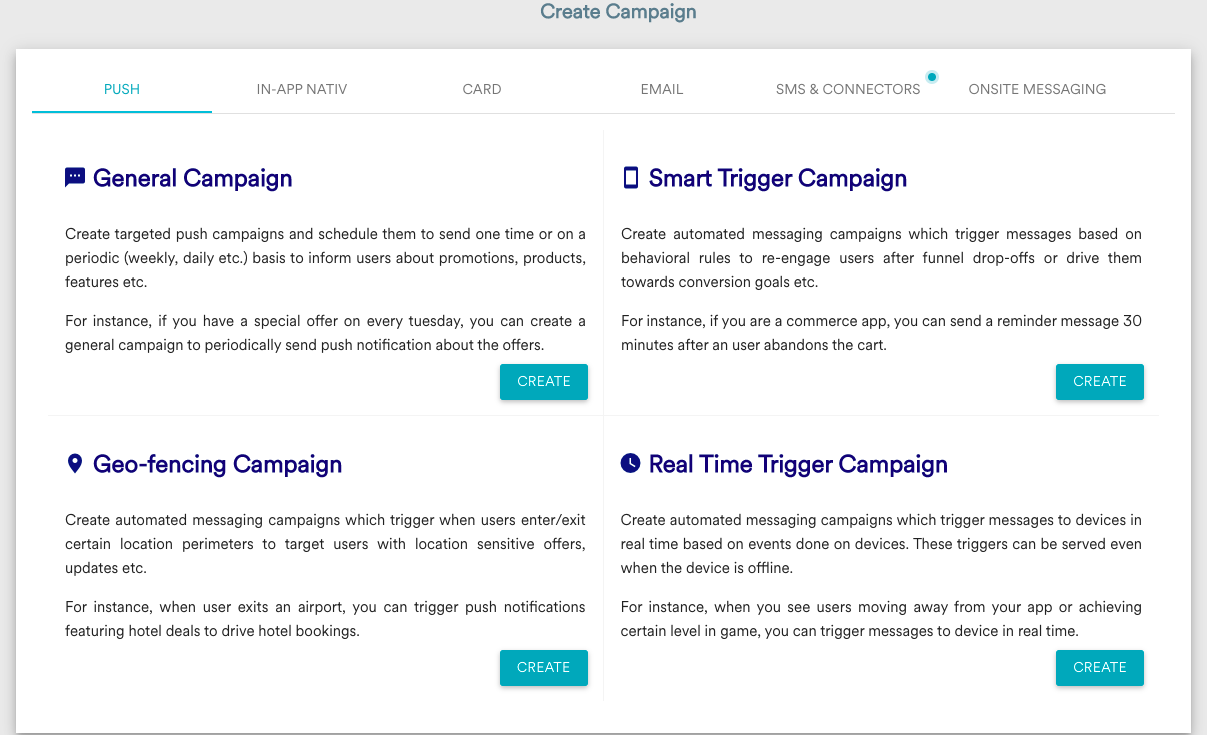 The steps to create campaigns are:
Step 1: Segmentation
Name the campaign, select the target platform, and define the campaign target audience
Select a name that helps you identify the campaign while managing the campaigns later. The campaign name must have a minimum of five characters.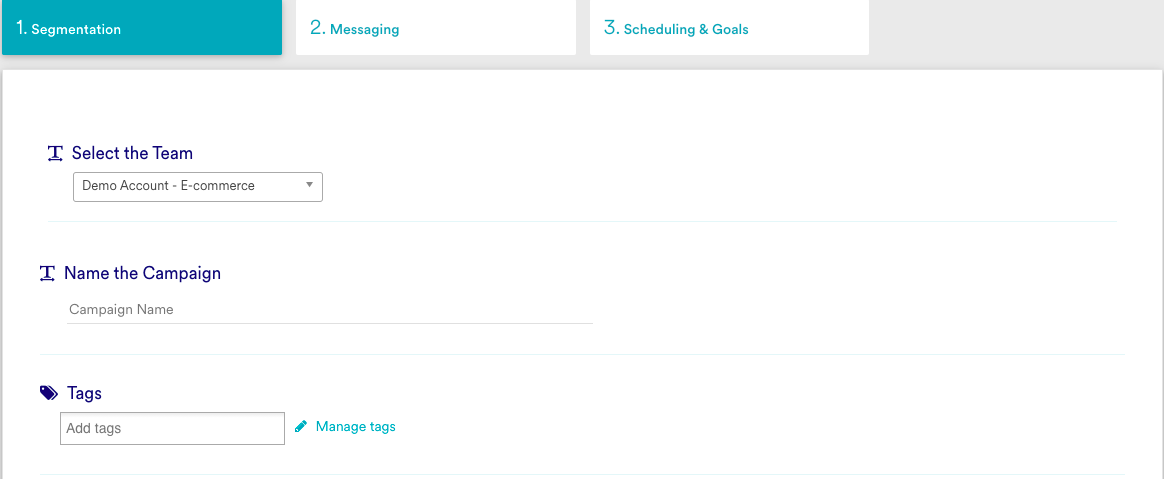 Select the platform that you want to target.


Next select the Target Audience or the target segment for the campaign which can be selected in three ways:
1. All Users
This selection will send the push to all the users of the app. The count of All users will be shown when this option is selected.
2. Custom Segment
You can target any of the custom segments saved during segmentation by selecting this option. It gives you an option to search the custom segments by name. Learn more about custom segments here.
3. Create a new segment
Alternatively, you can create a new user segment on-the-fly similar to creating a segment through user attributes/events in segmentation. Learn more about creating a segment in this article.
After selecting the desired target segment, click on Next to move to "Messaging" tab
Step 2: Messaging
Configure your message, add rich content (image, sound, coupon) and actions (default notification click action and additional action buttons)
1. Configure Message

Configure this as per the message text that you want to communicate. You can also use emoji's in all the message fields. Use websites like Getemoji to copy and directly paste the emoji, next to your message.
The various components of the message are:
1.a) Message Title (for android & windows) - Represents title or heading of the message that you want to send across
1.b) Message (for all platforms) - Represents the main message that you want to deliver to your audience
1.c) Message Summary (for android only ) - Introduced recently, message summary can be used as an additional text in the Expanded View of notification. For image based notifications, message will be shown in the collapsed view, while message summary will be displayed as the image caption when the notification is expanded. For notifications with Action buttons(and no image), summary text will come after Action Buttons.
NOTE

General guidelines for number of characters allowed for each platform are

Android - Between 450-650 characters
iOS - Between 150-230 characters

For best response to push (Android and iOS), we recommend

Text with Image - Title: 25 characters, Message Body: 45 characters
Text Only - Title: 25 characters, Message Body: between 60-65 characters
Payload size for Android should be less than 4KB

For best response to Push Amp+ (Android), we recommend

Title: Less than 50 characters
Message: Less than 128 characters
Image: Dimension should be 984±15 px X 450± 15 px.
Payload size for Push Amp+ should be less than 3KB
2. Add Rich Content
The various components of Rich Content are:
2.a) Coupon (for Android, iOS & Windows) - This enables a Coupon code to be added to campaign text message. The coupon code can be entered in the below format.

After the user clicks the notification, she will be prompted to copy the code on the clipboard, which can be used during check-out (Attached sample snapshot for iOS)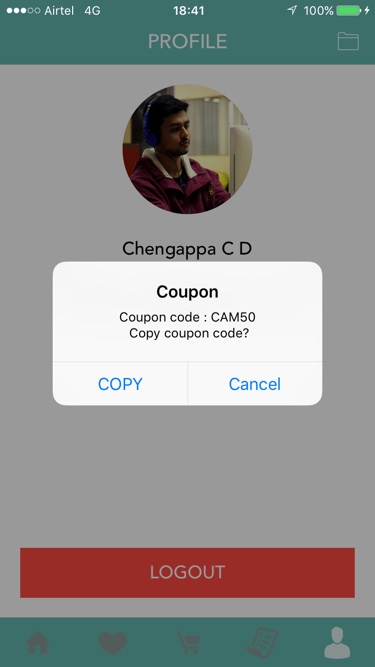 2.b) Image (For Android & iOS [iOS Version 10 & above and MoEngage SDK Version 3.0.0 & above] only) - This enables an image to be shown in the push message. The image can be uploaded either using a URL or by dragging and dropping or uploading an image from the user device. Supported image formats are JPEG & PNG. The maximum allowed size is 5 MB for Android and 10 MB for iOS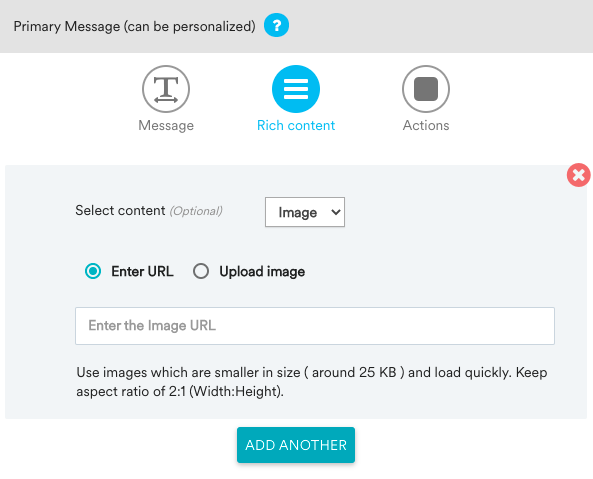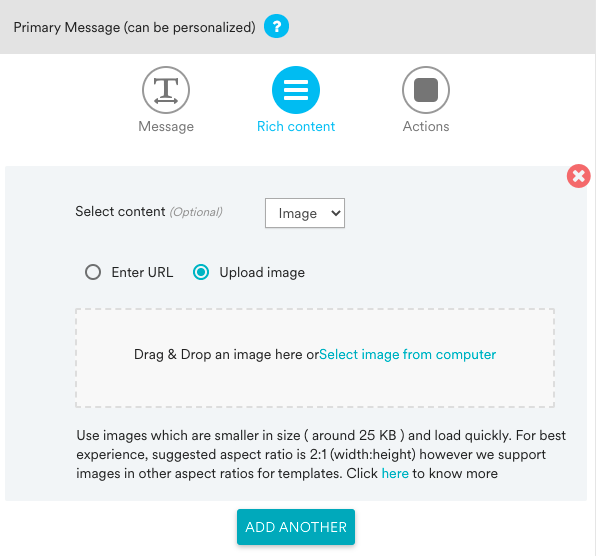 2.c) Notification Sound (For Android & iOS ) - Enable you to customize the Notification Sound. The sound file should be in your app bundle. Choose a sound filename as per the platform. Android supports .wav .mp3 and other prevalent sound formats while iOS supports .aiff , .caf & .wav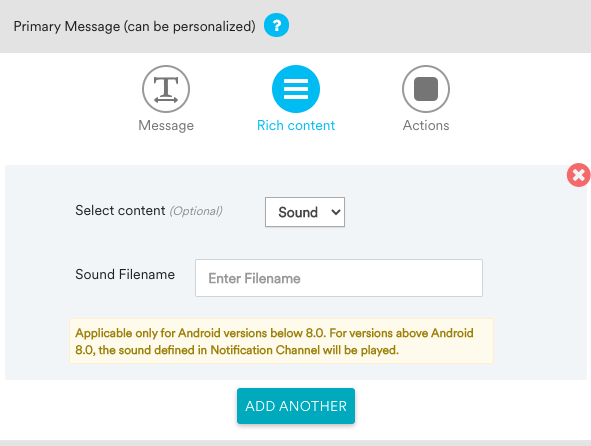 2.d) Video (for iOS only - iOS Version 10 & above and MoEngage SDK Version 3.0.0 & above) - Enables you to attach a video to your iOS Notification. The video file should be hosted somewhere and be directly play-able. iOS 10 supports MPEG, MPEG2, MPEG4 & AVI formats of video. The maximum size of videos should be less than 10 MB.
Note: Do not add Youtube video links as they do not work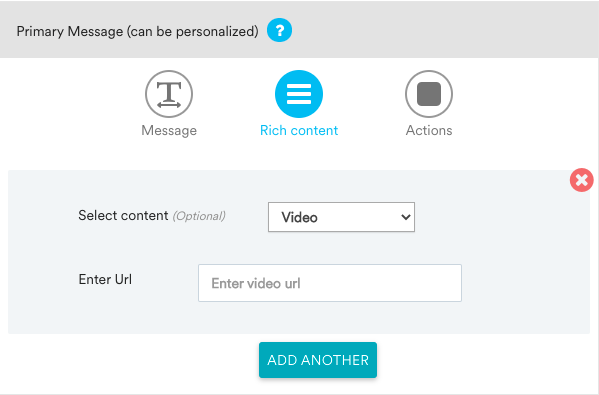 2.e) Audio snippet (for iOS only - iOS Version 10 and above and MoEngage SDK Version 3.0.0 and above) - Enables you to attach an audio snippet to your iOS Notification. The audio file should be hosted somewhere and be directly playable. iOS 10 supports .wav and .mp3 formats of audio files. The maximum allowed size of the audio should be less than 5 MB.
3. Actions
3.a) Default Click Action (Mandatory for Android, iOS & Windows) - It is the action that has to be performed on notification click. Currently supports actions of navigating to a screen, taking the user to a deep-linked URI, or taking the user to a rich landing page.
The supported actions are:
i) Navigate to a screen (for all platforms): Takes the user to a specified screen (selected from the drop-down or put screen name) on the click of the notification. Optionally, multiple Key-Value pairs can be added to take the user to specific parts of the page with relevant results. For iOS, you will have to enter the screen name manually
For example, you wish to offer discounts on Moto G Blue. You need to specify the screen name as <product purchase screen> and send the key-value pairs (brand, Moto), (Model, G), (Color, Blue) so that you can display results relevant to the campaign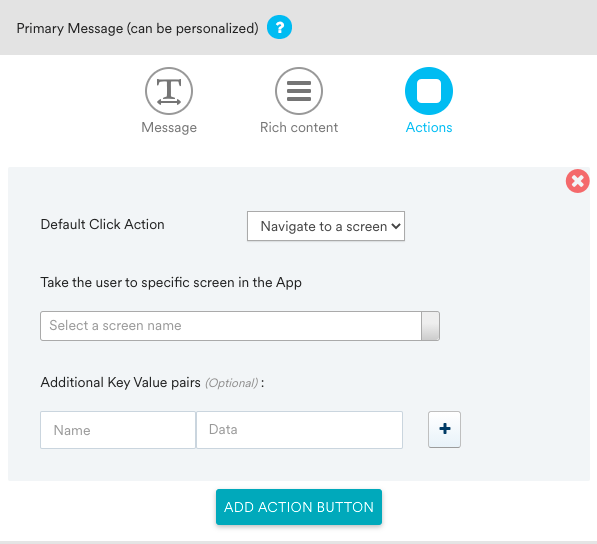 ii) URL Deep-linking (for all platforms): Take the user to a deep linked URL. Support for this exists from MoEngage SDK 2.2 for iOS.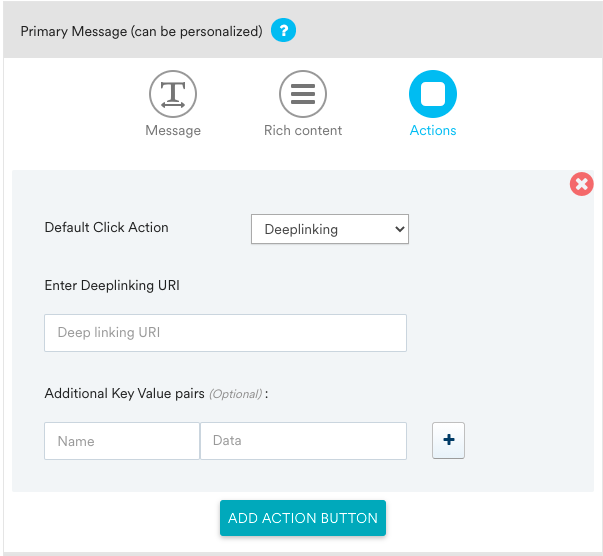 iii) Rich landing page (for all platforms): You can take user to a mobile optimized rich landing page (Web or Mobile Web). Support for this exists from MoEngage SDK 2.2 for iOS.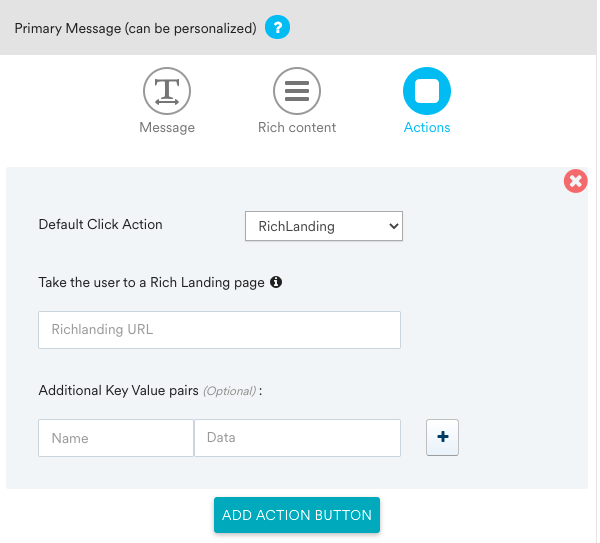 Note:
1. The key being used (as Key-Value pair) should not be a reserved word ("from" or any word starting with "google" or "gcm"). Do not use any of the words defined in Table 1 here.
2. The special characters like dot (.) & underscore (_) are not supported in key-value pairs.
3.b) Additional Action Buttons (For Android & iOS) - Allows you to add additional actions which can be performed directly from the notification. You can customize the button name, button icon and button action here in the case of Android. Please note that you won't be able to preview the icon if you chose the custom icon for your button.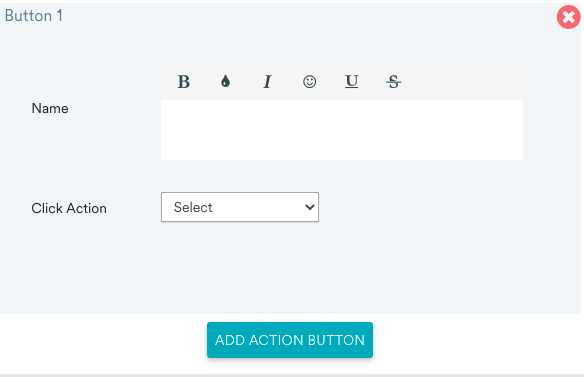 Before using Notification Actions, please check your SDK Version. Read more about Notification Actions and supported SDK versions. To enable actions for iOS, check developer documentation here.
Messaging components for Smart Triggers and Geo Fence Push are similar to General Messaging as mentioned above.
After completing the messaging, click on Next to move to "Scheduling & Goals" tab
Step 3: Scheduling & Goals
Select a scheduling type and conversion goal for the campaign.
1. Scheduling
There are three types of scheduling available for General Push Campaigns:
1. As soon as possible: This starts the campaign as soon as it is created.
2. At a particular date and time: Enter the date, time and timezone for this scheduling

3. Periodic/Recurring: This scheduling creates multiple campaigns scheduled at a particular time in a time-zone after every defined number of days. This requires an expiry date to stop the recurring campaigns.

2. Campaign Goals
Set Goals: Marketers can set campaign conversion goal to understand the impact of the campaign on their business metrics. One can choose any of the app events as a conversion goal activity and can set more than 1 conversion goals. The first goal will be treated as a primary goal.
Conversion goals help you to track your business metrics in relation to a campaign and help you measure how your campaign helped you achieve your business metrics.
e.g. You want to track that after sending the campaign, how many customers made the Purchase event for Product iPhone. Your conversion goal set-up will look something like this. Here iPhonePurchase is the Goal Name; Made Purchase is the App Event that you want to track; product is event attribute/property which has value as iPhone

With multiple conversion goals, you can now track more than one business metrics or can visualize a funnel for your user actions.
e.g. Say you wanted to check 3-step funnel flow: How many users have viewed product page -> How many of them added that product to the cart -> How many of them made a successful order

Tracking Revenue Performance
In addition to this, most of the times we want to understand the RoI of our campaigns i.e. how much revenue my product made after sending a communication. With MoEngage, you can very easily track revenue for your Push Campaigns.
While setting the conversion goal (in Step 3 of campaign creation), you can choose for which goal do you want to track the Revenue. Choose the goal by marking the check-box under Track $. In the example below, we are tracking the revenue for orderSuccessful event.

Please note that Revenue Tracking is optional and non-mandatory. You can uncheck the Track $ check-box to disable it.
Once you choose the goal, you can choose the numeric attribute which captures the total monetary value of order. In the example below cartValue contains the total order value. You can also choose the currency in which your monetary value is being reported.

We also allow you to set an attribution window i.e. duration, calculated from the time at which user received the campaign, for which you want to attribute the conversion goals to a specific campaign. As a default, it is set for 36 hours. Say for the example above, we set it to 5 hrs.

(Optional) Running Test Campaigns - Test campaigns enable previewing the campaign on a test device to make sure your intended message is being conveyed in your desired way. You can test the campaign you have just created by selecting a custom attribute and its value for a test user. Note: You won't be able to test personalized message using Test Campaign feature.

Push Expiry: For iOS and Android platform, in case you wish to stop sending push notification after a particular time, or don't want users to receive a push notification after a certain duration, you can enter the duration value in hours for "Expire Push Notifications after".
Additionally, if you are using Notification Center (Inbox) feature of our SDK, then you can mention the duration for which the notification has to be present in the Inbox as shown in the image below. The duration can be set in days or hours. By default, the value will be set to 30 days.

** Inbox Expiry feature is available from MoEngage iOS SDK version 3.6.0 and above. And for Android it's available from SDK version 7.7.13. In Android, for SDK versions below 7.7.13, inbox expiry can be set using gcm_msgttl key(set the value in this format : yyyy/MM/dd HH:mm:ss).
** In Android use both Inbox Expiry setting as well as gcm_msgttl key if you have user base in SDK version below 7.7.13 as well as at SDK version 7.7.13 or above.
Your campaign is now ready to be sent. Click on Create button, confirm in the dialog box and your campaign is created.
Upon successful campaign creation, you will be taken to the campaign info page where you can view the campaign performance stats such as impressions, clicks, conversions and other details mentioned in this article.
Next, you can know about the edit options for your campaign, know how to manage (view, edit and duplicate) campaigns or understand how you can create Smart triggered Push campaigns or Geo Fence Push campaigns.