All campaigns section on MoEngage Dashboard carries performance statistics of various campaigns and also gives options to search/view campaigns and export campaign statistics.
Navigate to Campaigns->All Campaign on the dashboard to access All Campaigns section
Campaign Search
You can search among the campaigns on the basis of name, campaign type, Status and Created Date.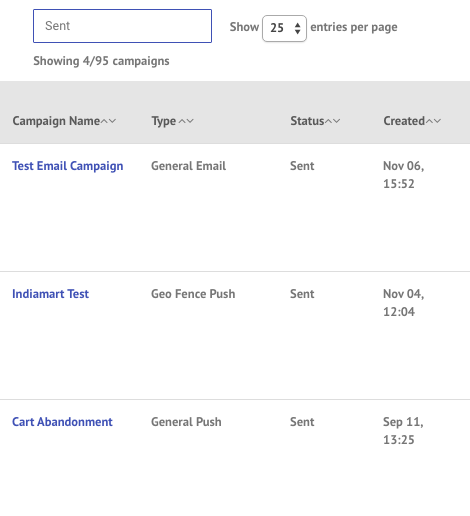 Exporting Campaign Data
You can export campaign data to build internal reports or gather additional insights. To export data, just click on the export button on the top of the All Campaigns Page.

Next, enter your email address, required duration and select the campaign types for which the data is required. We will email the report once it is generated.
Archiving a Campaign
A Campaign can be archived by clicking on

button. Once archived, the campaign can be seen in the list by switching off "Hide archived" button

at the bottom of the page. An archived campaign can be un-archived by clicking on

button.
Viewing Test Campaigns
Test campaigns are by-default hidden in the All Campaigns list. They can be seen by switching off "Hide Test" button

at the bottom of the page.
Next, you can read about detailed campaign information displayed on a particular campaign's page and how to edit/duplicate a campaign.