To configure your existing provider to send SMS, you need to set it as a Custom Connector in SMS Settings.

As an example, say you want to send your SMS via SMS Gupshup API (an SMS provider in India), you can then copy their API Endpoint to the API URL below. (Check complete API Documentation for SMS Gupshup here)
Use GET Method to send the API request.
API URL : Just copy this in API URL Field (use API URL provided by your own SMS Provider instead of this one) : http://enterprise.smsgupshup.com/GatewayAPI/rest?method=SendMessage&send_to=919898989898&msg=Hi, This is your sample message.&msg_type=TEXT&userid=YourUserId&auth_scheme=plain&password=YourPassword&v=1.1&format=text

Once copied, all your params will be populated like: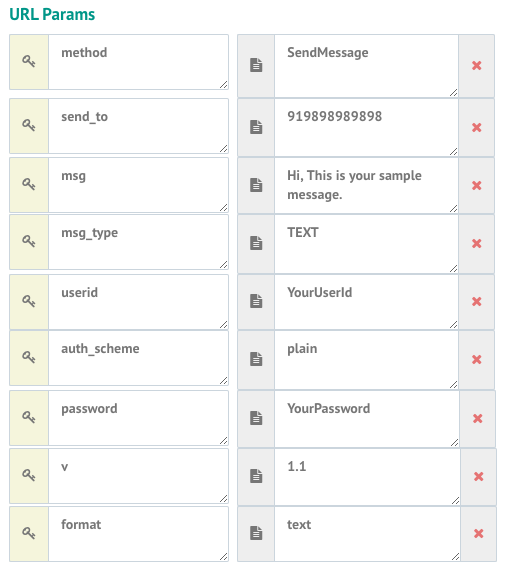 Change the value of field containing your
SMS Destination Number -> Moesms_destination
SMS Message -> Moesms_message
e.g.

Once configured, please Send SMS to Test if your configuration is working. Save your settings if everything looks fine.
Note: We do not track SMS delivery for Custom Connector.
2. Once above step is done, Refresh the page and then you can choose the SMS Provider from the drop-down. You should also set the attribute which saves your User's Mobile Number so that our system know which attribute, the end user Mobile number has to be picked from, before sending a SMS.

3. Set frequency capping for your SMS campaigns to regulate the amount of messages being sent in certain duration. Read more about Frequency Capping for SMS here.
Once you are done with settings, move here to see how to create your campaigns.