While getting started with SMS Campaign, you can start with configuring your SMS and then understand how to create SMS campaigns.
SMS Configuration
1. Configure your SMS Provider by navigating to MoEngage Dashboard > Settings > Channel > SMS & Connectors and click on SMS Settings, test it and Save.
We have default integration with
SMS Gupshup - Set your Username and Password that you can get from SMS Gupshup (if you have opened a direct account) or MoEngage (if you have opened an account via us).
Solutions Infini - Set your API Secret and your Sender ID that you can find from Solutions Infini (if you have opened a direct account) or MoEngage (if you have opened an account via us).
Sinch (US only) - Set your API Token and
If you don't have Solutions Infini, Gupshup or Sinch account and want to send SMS via any other service provide, set the custom connector as mentioned here.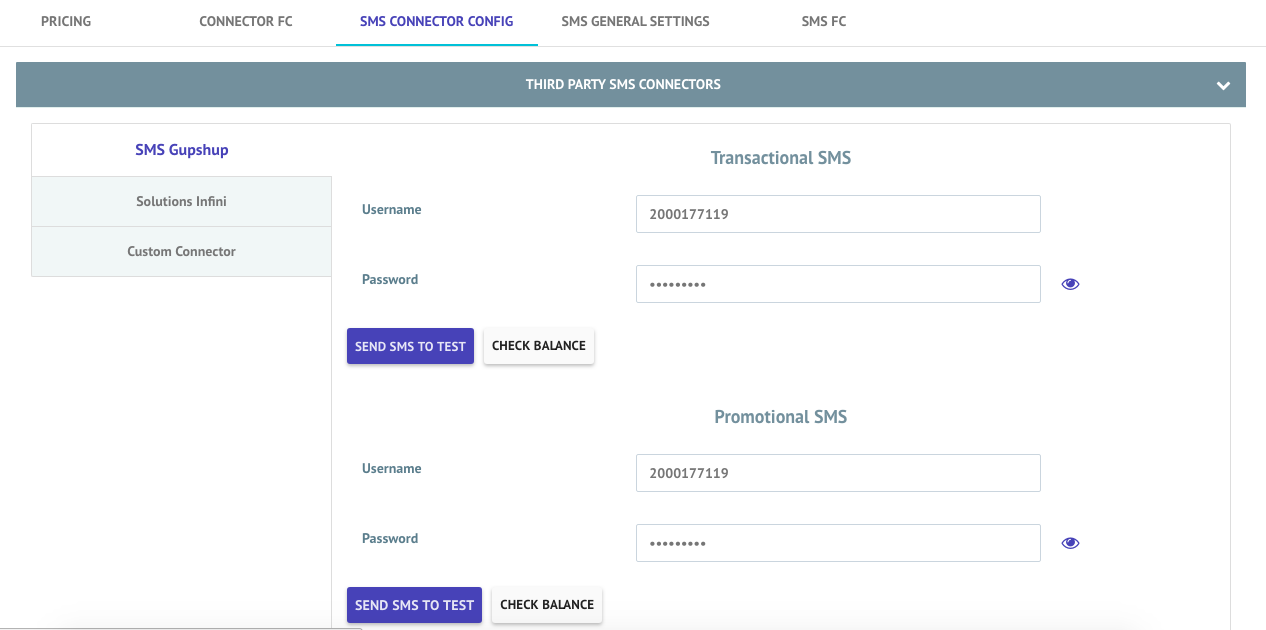 2. Once Step 1 is done, you can choose the SMS Provider from the drop-down. You should also set the attribute which saves your User's Mobile Number so that our system know which attribute, the end user Mobile number has to be picked from, before sending a SMS.

3. Navigate to MoEngage Dashboard > Settings > Channel > SMS & Connectors and click on FC & DND to set frequency capping for your SMS campaigns to regulate the amount of messages being sent in certain duration. Read more about Frequency Capping for SMS here.
Create SMS Campaign
To create an SMS campaign, navigate to MoEngage Dashboard > Campaigns, click Create Campaign > Connector Campaigns and in SMS & Connectors, click Create.

Step 1:
Add a suitable name for your campaign (e.g. you are creating a campaign to send out SMS)

Choose the Sending Type: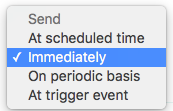 Immediately - Will start sending the campaign as soon you finish creating it
At scheduled time - Will allow you to send the campaign at any future date and time
On a periodic basis - Will allow you to send the campaign on a recurring basis at a specific frequency
At Triggered Event - Will allow you to send this campaign on basis of any trigger event
Choose the Target Audience
All users - Will allow you to target all your users
Custom Segment - Will allow you to target a pre-created custom segment
Custom Filters - Will allow you to configure and choose the filters to segment your audience while creating the campaign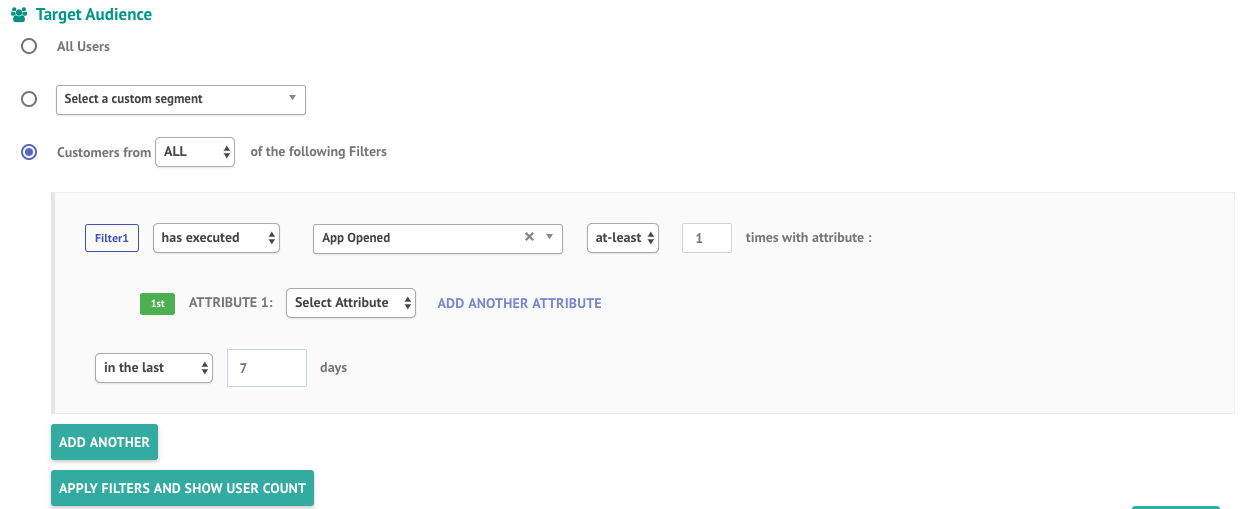 Step 2 :
Select the Connector of your choice from the 'Connector Type' drop down menu.

Add your SMS message and test it. You should be able to see the character count of your message as well as SMS count.

Below is the SMS Message length for your reference: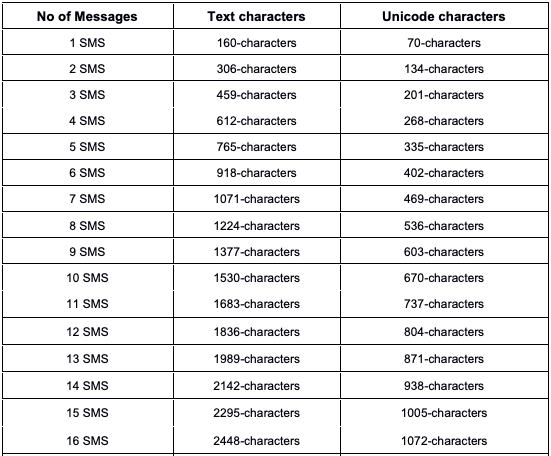 Marketers can also track one primary link from their SMS by clicking on checkbox Track SMS Click for URL* and copying their link in the text box. MoEngage will use URL shortening services to shorten your URL and then track the users who clicked on it.

Step 3:
If you create a SMS campaign to send message for a segment of users at once (or at a scheduled time), we hit the request URL with a default of 1000 rpm (minimum of 100 requests per minute). Please note that if estimated time to send the campaign exceeds 4 hours, we will automatically increase the requests per minute to finish sending in 4 hours.

You can set the Frequency Cap for SMS here. This value will be applicable to all the sent SMS campaigns (with send type as : Periodic, Immediate, Scheduled and Triggered).
You can choose to ignore the capping for your SMS campaign by using Ignore Frequency Cap (toggling it to right). There might be few cases where you might want to ignore the capping but want this campaign to be counted.

e.g. Assume you have capping value as 3. You have already sent 3 campaigns today to a group of users. Now you realize that the SMS that is being triggered by this campaign is urgent and should go on high priority even if some customers have already received 3 campaigns. If you will use Ignore Frequency Cap, people who have already received 3 campaigns will receive this one as well. If you use Count for Frequency capping, people who would have received 2 communications already and send this as well, their receipt count will become 3 after this campaign is sent.
If your chosen sending type is Triggered, in Step 1, you can set the Trigger criteria. e.g. You want to trigger a SMS when user has done an App Open event but has not made a purchase with-in two hours of opening the App.



Your payload in Step 2 can be similar to what you had above.
Step 3: You can also decide the minimum delay between SMS sent to a specific user fulfilling the trigger criteria.

*URL Click Tracking is currently available in Closed Beta. Write to us at : support@moengage.com if you want to try this out.
If you have successfully created the campaign, you will be taken to the Analytics page. Read more about Campaign Analytics here.